Doug Burgum and a Brief History of North Dakota Presidential Candidates
Burgum is the first candidate to launch a bonafide major party White House campaign from the Peace Garden State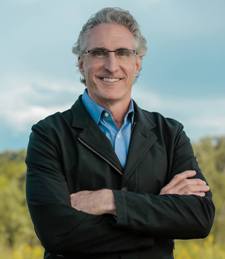 Doug Burgum, North Dakota's understated billionaire governor, may not have made as many headlines as another Republican 2024 presidential contender who officially entered the GOP race on Wednesday.
But while Mike Pence may have received more ink, Burgum's campaign is also noteworthy as he became the first North Dakotan to actively seek a major party presidential nomination.
Over the last 133 years since North Dakota achieved statehood, only a few residents have been mentioned in the context of presidential elections.
At the dawn of the presidential primary in 1912, the state's first Democratic Governor, John Burke, was a favorite son candidate in the first-in-the-nation North Dakota primary held on March 19th.
Burke, in his third and final term, was the state's only Democratic governor from statehood until 1934 when newspaperman Thomas Moodie was elected.
All the drama in the state that day was on the Republican ballot with Wisconsin U.S. Senator Robert La Follette defeating former President Teddy Roosevelt by nearly 20 points and President William Howard Taft garnering only 3 percent of the vote.
Nearly 60,000 votes were cast in the GOP primary while Burke won 9,357 votes unopposed in the Democratic contest.
Burke did not seek or receive any convention votes for the presidency but did win 386 votes for vice-president, losing to Indiana Governor Thomas Marshall on the second ballot.
No other non-fringe candidate from North Dakota has run for president from either major party.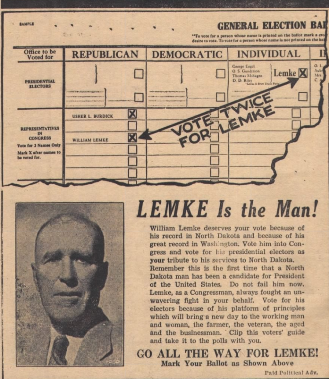 The presidential candidacy of one other North Dakotan is noteworthy however, although he was a third-party nominee.
In 1936, former Republican state Attorney General and sitting at-large U.S. Representative William Lemke accepted the nomination of the Union Party in June.
Lemke, who narrowly lost a recall election as Attorney General in 1921 less than a year into office, had roots in the Nonpartisan League and was a Farmer-Labor nominee for U.S. Senator in 1926.
Lemke received 1.9 percent of the nationwide vote in 1936, peaking at 13.4 percent in his home state and winning more than five percent in four others (Minnesota, Massachusetts, Rhode Island, and Oregon).
However, Lemke was simultaneously reelected to one of the state's two at-large U.S. House seats as a Republican that cycle. He would ultimately serve eight nonconsecutive terms in the chamber (1933-1941, 1943-1950).
As for Burgum, it should be noted that his pathway to the governorship in 2016 was also unexpected. He placed a distant third at the state GOP endorsing convention with less than 10 percent but stayed in the race and just three months later defeated the party-backed sitting state Attorney General Wayne Stenehjem by a decisive 21 points en route to a blow-out general election victory.
Follow Smart Politics on Twitter.