Will Tony Evers Govern Into the 2030s?
The Democratic governor is just the second in the state to win election at the age of 70+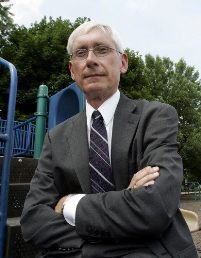 Democratic Governor Tony Evers recently commented how he has not ruled out running for a third term in Wisconsin, despite already being the second oldest person to hold the office in state history.
Evers turned 71 less than a week before his reelection victory to a second term last November – becoming just the sixth Wisconsin Democrat to accomplish that feat joining Nelson Dewey (1848, 1849), George Peck (1890, 1892), Gaylord Nelson (1958, 1960), Patrick Lucey (1970, 1974), and Jim Doyle (2002, 2006).
With his victory, Evers also became just the second Wisconsinite to win the governorship at 70+ years old and is the third to serve into their 70s.
Should Evers decide to run for reelection again in 2026 and win, he would end his third term in January 2031 at the age of 79 years, 2 months, and 1 day.
That is unusually old for a Wisconsin governor, to be sure, but he still would be more than a fourth term shy of the oldest.
In 1942, GOP Lieutenant Governor Walter Goodland was reelected to a third term but Progressive Governor-elect Orland Loomis died a month after Election Day and Goodland was subsequently sworn in as governor in January 1943 at the age of 80 years, 13 days.
Goodland would win election in his own right to the office in 1944 (at the age of 81 years, 10 months, 16 days) and 1946 (83 years, 10 months, 14 days) before dying in office in March 1947 at the age of 84 years, 2 months, 18 days.
The only other Wisconsinite to serve as governor in their 70s was Democrat Albert Schmedeman who took office in 1933 at 68 years, 1 month, 8 days and left office following a failed bid in 1934 at 70 years, 1 month, 13 days.
Only five of the remaining 43 Wisconsin governors even served into their 60s:
Republican Julius Heil (1939-1943): 66 years, 5 months, 27 days (last day in office)
Republican Harrison Luddington (1876-1878): 65 years, 5 months, 8 days
Democrat Jim Doyle (2003-2011): 65 years, 1 month, 11 days
Republican Warren Knowles (1965-1971): 62 years, 4 months, 16 days
Republican Oscar Rennebohm (1947-1951): 61 years, 7 months, 7 days
The average Wisconsin governor exited office at 52 years of age.
And what about Evers' prospects to win a third consecutive term?
Twelve Wisconsin governors have attempted this feat:
Eight were successful: Republicans Lucius Fairchild (1869), Jeremiah Rusk (1886), Robert La Follette (1904), Emanuel Philipp (1918), John Blaine (1924), Walter Kohler, Jr. (1954), Warren Knowles (1968), and Tommy Thompson (1994)
Four were defeated: Democrat George Peck (1894), Progressive Philip La Follette (1938), Republican Julius Heil (1942), and Republican Scott Walker (2018)
One two-term governor resigned (Democrat Patrick Lucey in 1977 to become U.S. Ambassador to Mexico) and the aforementioned Goodland was in his second full term when he died in office in 1947.
Follow Smart Politics on Twitter.