Dean Phillips and a Review of Minnesota US Reps Running for President
Only one sitting U.S. Representative has run for the nation's highest office in Minnesota history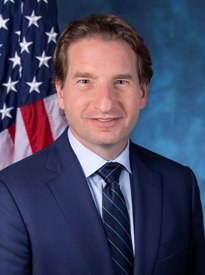 Minnesota's 3rd CD DFLer Dean Phillips has made headlines in recent days stating that the Democratic presidential nomination in 2024 should be a competition, not a coronation.
While no doubt many Democratic voters and office holders agree with Phillips' message, it is perhaps a bit surprising for some to learn this three-term congressman is flirting with a bid.
Rep. Phillips is not particularly well-known outside of Minnesota and the track record of presidential candidacies by sitting U.S. Representatives outside of the election of James Garfield in 1880 is poor. Dozens have tried and none have succeeded.
In Minnesota, only one sitting U.S. Representative has ever run for president.
In 2012, three-term 6th CD Republican Michele Bachmann (CD 06, 2007-2015) entered the race in late June 2011, but ended her bid after the Iowa Caucuses in early January 2012 after a disappointing sixth place finish.
She received one vote at the nominating convention that August.
A few ex-U.S. Representatives from the Gopher State have left slight footprints in the history of presidential electoral politics.
Duluth attorney and state judge advocate general Charles Towne flipped the state's 6th CD seat in 1894 – knocking Democratic freshman Melvin Baldwin out of office.
In July 1896, however, Towne left the GOP and was the nominee of both the Democratic and People's Party that November. Towne lost to Republican 11th Judicial District Court Judge R. Page Norris by less than 1,000 votes and then by less than 500 votes in the 1898 rematch.
Towne won 42 votes for the Democrats in the 1899 U.S. Senate election and a few years later left the state to practice law in New York.
In July 1904, Towne received two votes for president from Minnesota delegates at the Democratic National Convention. [That fall, Towne was elected to the U.S. House as a Democrat to New York's 14th CD].
Over a half-century later, another ex-U.S. Representative from Minnesota received notice at the Republican National Convention – former 10-term congressman and Minneapolis physician Walter Judd.
Judd represented Hennepin County in the 5th CD from 1943 until losing a bid for his 11th term in 1962 by 3.6 points to State Senator Don Fraser.
At the 1964 RNC, however, Judd was a 'favorite son' candidate for president with state GOP Chair Robert Forsythe nominating him at the San Francisco convention that July.
Judd received 18 votes on the first ballot from the Minnesota delegation (with eight still going to nominee Barry Goldwater) plus three delegates from North Dakota and one from Alaska for 22 in total.
Two other former Minnesota U.S. Representatives also received votes at presidential conventions, although they were sitting U.S. Senators at the time.
Republican Winona attorney William Windom served in the U.S. House for five terms – two as an at-large U.S. Representative (1859-1863) and three from the 1st CD (1863-1869).
In 1880, Windom was near the end of his first of two stints in the U.S. Senate (1871-1881, 1881-1883) when his name was placed into nomination by former Minnesota State Senator and railroad president Elias F. Drake.
Windom received all 10 votes from the Minnesota delegation on the first ballot. [Windom's support did not begin to peel off until the 29th round of balloting].
Lastly and most famously, St. Paul's Eugene McCarthy made several presidential runs, most notably in 1968 challenging Vice President and fellow Minnesotan Hubert Humphrey.
McCarthy represented the 4th CD from 1949 to 1959 and was a sitting DFL U.S. Senator (1959-1971) during his first presidential bid.
McCarthy won a half-dozen primaries and 601 delegates at the DNC in Chicago.
It should be noted that sitting U.S. Representatives Bob Bergland (CD 07, 1971-1977) and Rick Nolan (CD 06, 1975-1981; CD 08, 2013-2019) each received convention votes for vice president at the 1972 and 1980 Democratic National Conventions respectively.
Bergland received five votes and Nolan won four.
Follow Smart Politics on Twitter.