When Will the 1st Republican Presidential Candidate Drop Out of the Race?
Nearly as many candidates had exited at this point during the 2020 cycle than cumulatively from 1972 through 2016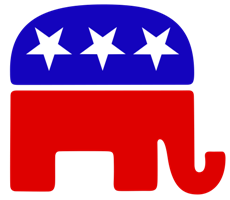 With the Iowa Straw Poll receiving less fanfare since the Iowa Secretary of State began administering the unscientific survey of Hawkeye State voter preferences during the 2016 cycle, the first high profile public test for the 2024 presidential field will be the first Republican debate held in Milwaukee this Wednesday.
More than a dozen Republicans have entered the race this cycle with most qualifying for the debate (excepting a few, including Donald Trump, who have stated they will not sign a pledge to back the party's eventual nominee).
While no campaign has made an appreciable dent into Trump's support thus far, each has held on long enough to make it to the debate season and stave off suspending their campaigns.
This is not unusual on its face.
From 1972 through 2016, 118 candidates had officially launched their campaigns at this point in the cycle (August 23rd of the year prior to the election).
And only seven of these candidates had withdrawn by this date (5.9 percent):
1980: Connecticut Republican Lowell Weicker (May 17, 1979)
2000: Ohio Republican John Kasich (July 14, 1999)
2000: Tennessee Republican Lamar Alexander (August 16, 1999)
2008: Iowa Democrat Tom Vilsack (February 23, 2007)
2008: Virginia Republican Jim Gilmore (July 14, 2007)
2008: Wisconsin Republican Tommy Thompson (August 12, 2007)
2012: Minnesota Republican Tim Pawlenty (August 14, 2011)
[An eighth candidate, Colorado Democrat Gary Hart, did initially withdraw from the 1988 race in mid-April 1987, but relaunched his campaign less than two months later and remained in the race until March 1988].
Campaigns, of course, are launching earlier now than in past decades – an average of 591 days prior to the general election since 2020 compared to 462 days during the 1970s-1990s and 550 days during the 2000s-2010s.
At this point during the 2020 cycle (August 23, 2019) six of the 27 then-announced Democratic candidates for president had already suspended their campaigns: little-known West Virginia politician Richard Ojeda (January 25, 2019), Eric Swalwell (July 8), Mike Gravel (August 6), John Hickenlooper (August 15), Jay Inslee (August 21), and Seth Moulton (August 23).
The 2024 GOP field is only about half that size but none of the well- or lesser-known hopefuls have exited the race despite the inability of most to gain any traction against the Trump Train.
Many campaigns are no doubt hoping that Trump's legal woes in criminal court will have some effect – if not yet on his popularity among likely primary voters then perhaps on his eligibility as a candidate in the months ahead.
DeSantis' gradual decline in support over the last few months also means there is no clear-cut heir apparent to the nomination should Trump's candidacy end for whatever reason.
As such, no candidate seems poised to get out of the race and it is unlikely any will until funding starts to run out.
Follow Smart Politics on Twitter.