Francis Suarez Records 6th Shortest Presidential Campaign Since 1972
The Miami mayor is one of 15 candidates to drop out shy of 100 days on the campaign trail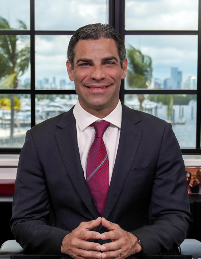 Most voters had probably not even heard of Francis Suarez when he jumped into the Republican presidential race in mid-June, and they hardly had a chance to get to know the Miami Mayor who suspended his campaign last week.
Suarez, who did not qualify for the first GOP debate, exited the race on Day 77 of his presidential bid – marking one of the shortest major party presidential campaigns of the modern primary era.
Out of the more than 220 bids by bona fide (non-fringe) Democratic and Republican White House candidates since 1972, only five had a shorter run for the White House than Suarez.
Fred Harris was a two-term Democratic U.S. Senator from Oklahoma when he launched his first presidential campaign on September 24, 1971.
Harris' White House bid lasted just 48 days when he withdrew on November 10, 1971 due to his campaign being in debt $40,000.
Harris would again run for president four years later and this time lasted 454 days on the campaign trail (from January 11, 1975 to April 8, 1976) but failed to carry any states.
Former South Carolina Governor and U.S. Representative Mark Sanford was perhaps the most well-known of the three former officeholders to take on President Donald Trump for the Republican nomination in 2020 when he announced his candidacy on September 8, 2019.
Sanford closed up shop just 66 days later on November 12th – marking the shortest ever GOP campaign for the office by one day.
Sanford's bid lasted one day fewer than two-term Republican Connecticut U.S. Senator Lowell Weicker during the 1980 cycle who formally announced his candidacy on March 12, 1979.
A self-described "long-shot," Weicker exited the race just 67 days later on May 17th citing polls showing both Ronald Reagan and George H.W. Bush well ahead of him in his home state.
One candidate who barely got out of the gate whose campaign was considered one of the biggest busts in recent decades was Wisconsin Governor Scott Walker during the 2016 cycle.
Walker frequently made national headlines and scored plenty of points with the Republican base during his first four years as governor of the Badger State and had survived a recall vote less than two years into his administration.
That didn't translate into success during his presidential bid, with a 71-day campaign beginning on July 13, 2015 and ending on September 21, 2015 shortly after the second Republican presidential debate.
In fact, what distinguishes Walker from the other candidates mentioned above is that he was leading in the polls at one point in the cycle (as of late Spring 2015) and dubbed by many as a top-tier candidate if not a front runner.
The only other candidate to have a shorter campaign than Mayor Suarez was an even lesser-known candidate – former West Virginia Democratic State Senator Richard Ojeda who lasted 76 days on the trail in the 2020 cycle.
Ojeda was the third Democrat to jump into the race following Maryland U.S. Rep. John Delaney and Andrew Yang. Ojeda was out of the race by January 25, 2019 before two-dozen Democrats had even announced their campaigns.
The presidential campaigns of nine other major party candidates since 1972 failed to last 100 days including two other Democrats from the 2020 cycle:
Republican Jim Gilmore of Virginia (2008): 80 days
Republican Thad McCotter of Michigan (2012): 83 days
Democrat Vance Hartke of Indiana (1972): 84 days
Republican Tim Pawlenty of Minnesota (2012): 85 days
Democrat Tom Vilsack of Iowa (2008): 86 days
Democrat Frank Church of Idaho (1976): 89 days
Democrat Deval Patrick of Massachusetts (2020): 91 days
Democrat Eric Swalwell of California (2020: 92 days
Democrat John Lindsay of New York (1972): 99 days
2024 GOP candidates Chris Christie, Mike Pence, and Doug Burgum will reach the 100-day mark next week while Will Hurd will do so at the end of September.
Follow Smart Politics on X/Twitter.