Will Amy Klobuchar Draw a Top-Tier GOP Challenger in 2024?
Klobuchar could become the third sitting U.S. Senator to win their first four elections by at least 20 points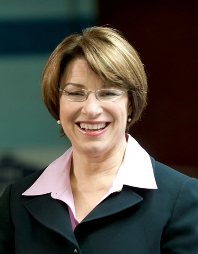 After a failed 2020 presidential bid and sporadic media-driven false starts putting her on the short list for judicial nominations, Minnesota DFLer Amy Klobuchar will be back on the ballot in 2024 seeking her fourth term in the U.S. Senate.
Klobuchar is looking to become just the fourth Minnesotan elected to four or more terms in the chamber and the third during the direct election era joining Republican Knute Nelson (elected in 1895, 1901, 1907, 1912, 1918), Farmer-Laborite/Republican Henrik Shipstead (1922, 1928, 1934, 1940), and DFLer Hubert Humphrey (1948, 1954, 1960, 1970, 1976).
Minnesota's senior senator is considered a heavy favorite to win reelection next November.
For starters, Minnesota Democrats have won a party-record 26 consecutive statewide elections to statewide federal and constitutional offices since 2008 – the fourth largest (and tied for the second longest) Democratic statewide winning streak in the country.
Secondly, no well-known Republican has yet entered the race.
Thirdly, during the past three cycles, Klobuchar has cruised to victory even in the face of bona fide Republican nominees: three-term U.S. Representative Mark Kennedy in 2006, former Rosemount City Councilor and sitting freshman State Representative Kurt Bills in 2012, and three-term State Representative Jim Newberger in 2018.
In fact, Klobuchar won each of these contests by north of 20 points – making her one of 13 sitting U.S. Senators to win their first three elections by at least that margin. [Klobuchar is also the first Minnesotan to accomplish this feat].
What is particularly unique about Klobuchar, however, is that none of the other dozen senators represent anything resembling a battleground state.
Eight senators hail from deep red states, particularly in federal elections: Mike Crapo and Jim Risch of Idaho, John Barrasso of Wyoming, Jerry Moran of Kansas, John Boozman of Arkansas, John Hoeven of North Dakota, Tim Scott of South Carolina, and James Lankford of Oklahoma.
Four senators represent deep blue states in federal races: Jack Reed of Rhode Island, Bernie Sanders of Vermont, Kirsten Gillibrand of New York, and Brian Schatz of Hawaii.
Klobuchar and Sanders have a chance to win by 20+ points for the first four elections of their respective U.S. Senate tenures in 2024. Reed and Crapo have done so in each of the first five times they were elected to the chamber.
Interestingly, 14 sitting U.S. Senators have been elected in three or more cycles without ever winning the office by 20 points.
Washington's Patty Murray has won by less than 20 points five times while Alaska's Lisa Murkowki and South Carolina's Lindsey Graham have done so in four cycles.
The remaining 11 are Democrats Bob Menendez and Cory Booker of New Jersey, Sherrod Brown of Ohio, Bob Casey of Pennsylvania, Jon Tester of Montana, Jeanne Shaheen of New Hampshire, Jeff Merkley of Oregon, and Michael Bennet of Colorado plus Republicans Roger Wicker of Mississippi, Marco Rubio of Florida, and Ron Johnson of Wisconsin.
It should be pointed out that Klobuchar benefited from all three of her electoral victories coinciding with strong Democratic cycles nationwide: in 2006 (Democrats flipped the U.S. House and U.S. Senate and netted six governorships), 2012 (an incumbent Democratic president won reelection with the party netting seats in both chambers, although lost one governorship), and 2018 (Democrats notched a 41-seat net gain to flip the U.S. House plus netted seven governorships).
Although practically the time-frame is much narrower, the Minnesota GOP technically still has nearly nine months to recruit a top-tier candidate with the state's two-week filing deadline closing on June 4, 2024.
Follow Smart Politics on X/Twitter.