RFK Jr and a Brief History of Presidential Candidates Switching Partisan Affiliation
Presidential hopefuls have ended a dozen major party campaigns in favor of independent or third party bids during the primary era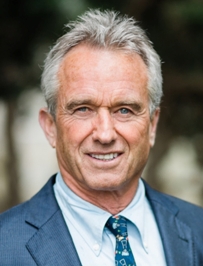 Robert Kennedy, Jr. is expected to announce on Monday that he will end his campaign for the Democratic Party presidential nomination in favor of an independent bid.
The move theoretically gives Kennedy a better chance to make the debate stage – the DNC has no plans to host any debates during the primary cycle and campaign backers think Kennedy could poll in the double-digits in a three-way race.
If Kennedy runs as an independent, he would add his name to a fairly long list of failed major party candidates who bolted for third party or independent bids.
In the modern primary era, several candidates have made such a move – the most successful being John Anderson in 1980.
Anderson was a sitting 10-term GOP U.S. Representative from Illinois' 16th Congressional District when he launched his campaign for the Republican presidential nomination on June 8, 1979.
His campaign peaked with very close second-place primary finishes in Massachusetts (30.7 percent) and Vermont (29.0 percent) in early March as well as a runner-up finish in his home state of Illinois in mid-March (36.7 percent). Anderson also placed a distant second in Kansas as well as Washington, D.C., Idaho, and California following his withdrawal from the GOP nomination on April 24, 1980.
Anderson ran as an independent in the general election, winning 6.6 percent of the vote nationwide including more than 10 percent in nine northeastern and western states (Massachusetts, Vermont, Rhode Island, New Hampshire, Connecticut, Colorado, Washington, Hawaii, and Maine).
During three of his presidential bids, controversial candidate Lyndon LaRouche sought the Democratic nomination but ultimately ran as an an independent or third party nominee in the general election.
LaRouche appeared on 12 Democratic primary ballots in 1984, 21 in 1988, and 30 in 1992 before embarking on independent, National Economic Recovery, and Economic Recovery general election bids respectively that failed to net him even one-tenth of a percentage point in any of these cycles.
New Hampshire U.S. Senator Bob Smith was the second Republican to run for president in the 2000 cycle (announcing on February 18, 1999) but left the GOP on July 13th of that year. Four weeks later, he joined the U.S. Taxpayers Party and briefly sought their presidential nomination before leaving the party and running as an independent until withdrawing from the race on October 28, 1999.
Following Republican presidential bids in 1992 and 1996, Pat Buchanan announced his third GOP bid on March 2, 1999. However, Buchanan left the party in October 1999 and eventually secured the Reform Party nomination.
Buchanan won just 0.4 percent of the vote [although he did have an outsized influence on the election in Florida's Palm Beach County, where the butterfly ballot resulted in a few thousand intended Democratic votes mistakenly being marked to Buchanan].
Former two-term Alaska U.S. Senator Mike Gravel was the first Democrat to jump into the 2008 race on April 16, 2006. Gravel appeared on several primary ballots, peaking with 0.3 percent of the vote in Florida before leaving the Democratic Party to seek the Libertarian nomination in late March 2008.
[Note: Gravel's name remained on the May 2008 North Carolina and Nebraska Democratic primary ballots, where he received 0.8 and 4.1 percent respectively].
Alan Keyes launched his 2008 campaign for the GOP nomination on September 14, 2007 – his third after bids in 1996 and 2000.
Keyes appeared on the primary ballot in 17 states before withdrawing and leaving the Republican Party on April 15, 2008 with his best showing to that point being 1.1 percent in his home state of Maryland. [Keyes subsequently won 2.6 percent in North Carolina and 1.2 percent in West Virginia after his GOP exit].
Keyes unsuccessfully sought the Constitution Party nomination and ran as an independent in the general election with the seventh most votes in the country.
In the 2012 cycle, former two-term New Mexico Governor Gary Johnson was the first to enter the GOP field on April 21, 2011.
Johnson left the party on December 28th of that year and successfully sought the Libertarian nomination. He placed third in the general election with 1.0 percent of the national vote.
A fellow former Republican (and ex-Democratic) governor, Louisiana's Buddy Roemer, was the second to last GOPer to enter the race on July 21, 2011.
Roemer only appeared on a few primary ballots and withdrew on February 22, 2012 to seek the Reform Party nomination.
In the early days of the primary system a few other notable politicians ended up abandoning their major party bids for a run under another banner.
In 1912, former Republican President Teddy Roosevelt was the leading vote-getter among the dozen states holding primaries, but left the GOP national convention with hundreds of his delegates and opted instead for a run as a Progressive en route to winning six states and 88 Electoral College votes.
In 1924, Wisconsin GOP U.S. Senator Robert LaFollette, who also appeared on Republican primary ballots in 1912 and 1916, won the Wisconsin primary and placed a strong second in North Dakota. LaFollette won 34 votes at the convention but ran as a Progressive that November winning his home state and its 13 Electoral College votes.
Follow Smart Politics on X/Twitter.