Is Military Experience No Longer Valued in Minnesota Gubernatorial Elections?
Prior to Tim Pawlenty, 10 of the previous 14 Minnesota governors had military service; Minnesotans elected veterans in 16 of 19 gubernatorial elections from 1944-1998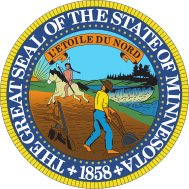 This report is the 12th installment in Smart Politics' Pathway to the Governor's Mansion Series.
(Past reports analyzed the political experience, geographic background, ethnic background, age (part 1), astrological signs, age (part 2), U.S. Senatorial experience, names, legal education, religious beliefs, and legislative service of successful gubernatorial candidates in Minnesota history).
Just as representation of the U.S. military in the U.S. House of Representatives is on the decline, for the first time in nearly 80 years Minnesota is poised to elect governors in back-to-back-to-back elections who have not served in the nation's armed forces.
A Smart Politics analysis of gubernatorial biographies from the National Governor's Association and Minnesota Legislative Reference Library finds that of the 38 men who have served as Governor of Minnesota since statehood, exactly half had military experience before becoming governor, while half did not.
But the election of Tim Pawlenty in 2002 ended a string of eight consecutive election cycles (and 16 of 19 dating back to 1944), in which veterans were elected to the governor's office.
Wendell Anderson (Army) was elected in 1970 and 1974, Al Quie (Navy) in 1978, Rudy Perpich (Army) in 1982 and 1986, Arne Carlson (Army) in 1990 and 1994, and Jesse Ventura (Navy) in 1998.
With none of the leading contenders for the 2010 Minnesota gubernatorial race having military experience, that means the Gopher State will go three straight election cycles without electing a veteran into office for the first time since the early 1930s, when Farmer-Laborite Floyd Olson was elected governor in 1930, 1932, and 1934.
None of the three leading DFL contenders for August's primary are veterans (Margaret Anderson Kelliher, Mark Dayton, and Matt Entenza) and neither are Independent Party hopefuls Tom Horner and Rob Hahn. (Note: Kelliher's running mate, John Gunyou, is a graduate of the U.S. Air Force Academy).
On the Republican side, Tom Emmer is not a veteran and neither is long-shot candidate Bob Carney. Only perennial candidate Leslie Davis, who served in the Army from 1955-1957, has a background in the military.
(Note: At St. Thomas Military Academy Emmer was taught under the United States Army Junior Reserve Officers' Training Corps. That program, however, is largely a citizenship program, having shed most of its military instructional content).
From statehood through the election of 1900, nine of Minnesota's first 15 governors had military experience prior to being elected, while six did not:
· Seven governors served in the Civil War before being elected governor: Stephen Miller (Army, Brigadier General, Minnesota's 1st Regiment of Volunteers), William Marshall (Army, Brigadier General), Cushman Davis (Assistant Adjutant General), Lucius Hubbard (Army, Brevet Brigadier General, 5th Minnesota Infantry), Andrew McGill (National Guard, 9th Minnesota Volunteers), Knute Nelson (National Guard, Private, Wisconsin Volunteer Infantry), and Samuel Van Sant (Army, Corporal, 9th Illinois Cavalry). Davis also previously served as First Lieutenant for the 28th Regiment of the Wisconsin Volunteer Infantry.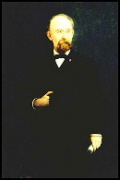 · Lucius Hubbard (pictured) also served after his governorship in the Spanish-American War, with the rank of Brigadier General. The state's 14th governor, John Lind, fought in the Spanish-American war prior to his governorship, serving in the National Guard as Quartermaster for the 12th Regiment of Minnesota's Volunteer Infantry.
· Minnesota's 6th governor, Horace Austin, served as Captain in the National Guard in the 1862 Sioux Rebellion.
· Alexander Ramsey, Henry Swift, John Pillsbury, William Merriam, and David Clough did not serve in the military. (Although Ramsey did become Secretary of War from December 1879 through March 1881 during the Rutherford B. Hayes administration).
· The Gopher State's first governor, Henry Sibley, did not serve in the military until after his term in office. Sibley was Commander of the Minnesota Military Forces in the Dakota Wars of 1862 and then served for the Union in the Civil War in the Defense of the Frontier Against Indian Tribes, reaching the rank of Brevet Major General.
After the election of Governor Van Sant for his second term in 1902, Minnesota did not elect a veteran in gubernatorial contests for the next 16 election cycles, beginning with John Johnson in 1904 through Floyd Olson in 1934. Hjalmar Petersen, who succeeded Olson after his death in August 1936 to become Minnesota's 23rd Governor, also did not have a military background.
However, from the election of Elmer Benson in 1936 through Jesse Ventura in 1998, 10 of the next 14 Minnesota governors were veterans. And since 1944, Gopher State voters elected veterans into office in 16 of 19 contests prior to Tim Pawlenty in 2002.
· Three governors served in World War I: Benson (Army, Private), Edward Thye (Army, Second Lieutenant), and Luther Youngdahl (Army).
· Three governors served in World War II prior to being elected: Orville Freeman (Marines, Major), Karl Rolvaag (Army, Captain), and Al Quie (Navy). Rolvaag was honored with both the Silver Star and a Purple Heart for his service.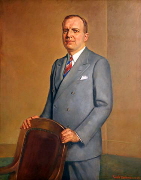 · Harold Stassen (pictured) did not complete his third term in office, choosing instead to step down and enlist in the Navy during World War II, where he attained the rank of Captain. Stassen was awarded six major battle stars.
· Wendell Anderson (1956-1957), Rudy Perpich (1946-1947), and Arne Carlson (1959-1960) all served in the Army, although not during wartime.
· Jesse Ventura served in Vietnam in the Navy, as a member of the Underwater Demolition SEAL team.
· C. Elmer Anderson, Elmer Andersen, and Harold LeVander were the only three governors during this period without a record of military service.
And now, with underdog Leslie Davis as the only veteran in the race among the state's three major parties, Minnesota's 40th Governor, like its 39th, will almost certainly not have a military background – the first time this has happened since the state's 21st and 22nd governors, Theordore Christianson and Floyd Olson in the 1920s and 1930s.
Overall, Minnesota has elected men who had military experience prior to Election Day in 31 of 64 gubernatorial contests since statehood.
Follow Smart Politics on Twitter.