Will Representative Mark Buesgens' Arrest Put House District 35B in Play? (Not Likely)
HD 35 has averaged a 28-point GOP tilt in top of the ticket races since redistricting in 2002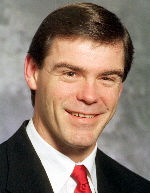 The arrest of a state representative for DUI less than 45 days before Election Day might be the sort of curve ball that could derail even a popular six-term incumbent.
But Minnesota State Representative Mark Buesgens (R-Jordan), who was arrested last Saturday for suspicion of driving under the influence of alcohol, and charged with three misdemeanors on Tuesday, does not represent any ordinary district.
Buesgens' 35B House District is one of the most Republican districts in the Gopher State and thus remains unlikely to flip to the DFL – presuming there is no other shoe to drop…and presuming that no write-in candidacy from the GOP is launched in the coming days.
That qualifier is made because HD 35B was one of only six districts which had a Republican primary in 2010, and Buesgens was the only Republican incumbent in the House to face an intra-party challenger.
In three other districts (HD 08B, 55A, and 62A), Republicans had a primary battle for the nomination to take on DFL incumbents. In two other districts, Republicans squared off for open-seat races currently held by the DFL (17B) and GOP (29A).
Buesgens was also one of only two Republican incumbents to face a primary challenger in 2006.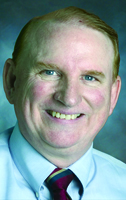 In both of those cycles, along with 2008, Buesgens' primary opponent was former three-term GOP Representative Tom Rees.
Rees had been elected to the 36th HD in 1978 and 1980 when a resident of Elko and in 1984 as a resident of Lakeville.
In 2010, Buesgens cruised to a 46.6-point primary victory over Rees, 73.3 percent to 26.7 percent, compared to 56.4 points in 2008 (78.2 to 21.8 percent) and 55.3 points in 2006 (77.6 to 22.3 percent).
Buesgens' recent arrest might well have put his reelection chances against DFLer Jannaya LaFrance in doubt, even in a GOP wave election year, were his district not already so heavily tilted to the Republican Party.
Since redistricting in 2002, Buesgens has won HD 35B by an average of 27.0 points.
His 31.3-point victory in 2002 was the 19th best GOP showing across the state that year.
In 2004 (26.7 points), 2006 (23.7 points), and 2008 (26.1 points), Buesgens' victory margin was the 8th, 7th, and 9th largest for the Republican Party in each of those election cycles respectively.
Mark Buesgens Margin of Victory in HD 35B and GOP Rank, 2002-2008
Year

MoV

GOP Rank

2002

31.3

19

2004

26.7

8

2006

23.7

7

2008

26.1

9
Data compiled by Smart Politics.
Buesgens' performance over the past decade in HD 35 is rather noteworthy.
Republicans have won only two other districts by at least 23.7 points in every election cycle since 2002: HD 32A (currently represented by Joyce Peppin, from Rogers) and HD 34A (Paul Kohls, from Victoria).
The overwhelming Republican tilt in HD 35B can also be seen in top of the ticket races:
· In the 2008 presidential race, John McCain won HD 35B by 15.6 points, or 25.8 points better than he did across the state.
· In the 2006 gubernatorial contest, Tim Pawlenty won HD 35B by 30.0 points, or 29.0 points more than his statewide victory margin.
· In the 2004 presidential election, George W. Bush won HD 35B by 24.1 points, or 27.6 points better than he did statewide.
· In the 2002 gubernatorial race, Pawlenty won HD 35B by 37.6 points, or 29.7 points more than his statewide victory margin.
Overall, HD 35B has averaged a 28-point GOP tilt in top of the ticket races since redistricting in 2002.
Follow Smart Politics on Twitter.