Republican Female U.S. Representatives Lead Commentary on Giffords Shooting
Nearly 40 percent of female GOP U.S. House members issued press releases on House websites after the shooting in Arizona, compared to 25 percent of female Democrats, male Republicans, and male Democrats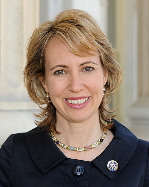 As of early Sunday evening – approximately 30 hours after the violent shooting Saturday in Tucson, Arizona – more than one quarter of the U.S. House of Representatives had issued press releases expressing shock and sadness over the tragic event on their official U.S. House websites, according to a Smart Politics review.
Overall, a nearly identical percentage of Republican (25.6 percent, 62 of 242) and Democratic (24.5 percent, 47 of 192) House lawmakers chose to express their public outrage at the shooter and sympathy for the victims through this medium.
A slightly higher percentage of female Representatives (28.4 percent, 19 of 67) had released statements on their House websites than males (24.5 percent, 90 of 367).
While more statements on the shooting are likely to be released later in the week, it is Republican women who have been quickest to comment on the massacre in Tucson, with 38.1 percent (8 of 21) already posting statements on their websites, compared to 24.4 percent of female Democratic lawmakers (11 of 46).
Republican women utilizing their House websites to comment on the shootings include Michele Bachmann (MN-06), Mary Bono Mack (CA-45), Candice Miller (MI-10), Sue Myrick (NC-09), Shelley Moore Capito (WV-03), Martha Roby (AL-02), Sandy Adams (FL-24), and Ann Marie Buerkle (NY-25).
Virtually the same percentage of Republican (24.4 percent) and Democratic (24.7 percent) men have posted statements on the killings on their House websites.
Note: Some representatives issued statements on the shooting via other formal or less formal mediums – such as through interviews or e-mails etc. – rather than posting an official statement on their House website. (In fact, as the 112th session convened only three days prior to the shooting, many freshmen – the vast majority of which are Republicans – were still using the default House website design and had not yet issued a press release on any subject on these sites).
Press Releases on Tucson Shooting by U.S. Representatives on Official U.S. House Websites
Representative

Yes

No

Total

% Yes

Female GOP

8

13

21

38.1

Female Dem

11

35

46*

23.9

Male GOP

54

167

221

24.4

Male Dem

36

110**

146

24.7

Total

109

323

434

25.1
* Excludes website of the victim, Gabrielle Giffords. ** The websites of two Democratic male Representatives were not up and running over the weekend. Table compiled by Smart Politics from official U.S. House website press releases through the early evening of January 9, 2011.
Follow Smart Politics on Twitter.