How Many U.S. Secretaries of Defense Have Served in the Military?
Nearly three in 10 defense secretaries never served in the nation's Armed Forces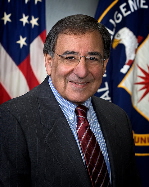 With Leon Panetta slated to be the nation's 23rd Secretary of Defense this summer, the U.S. Army will have yielded its first head of the Defense Department since the mid-1990s.
Panetta served in the Army from 1963 to 1965, exiting with the rank of First Lieutenant.
Of the 21 men who have been appointed Secretary of Defense over the last 64 years, seven have come from the Navy, with seven from the Army, and one from the Air Force. (With Donald Rumsfeld, who served 13th and 21st defense secretary, counted just once for the Navy).
More than one in four defense secretaries, however, never served in the Armed Forces, or six of 21 (29 percent).
Four of these six men without military service were appointed by Republican presidents: Charles Wilson (Eisenhower), Neil McElroy (Eisenhower), James Schlesinger (Nixon), and Dick Cheney (George H.W. Bush).
Harold Brown (appointed by Carter) and William Cohen (Clinton) also never served. (Brown had been a consultant to the Air Force Scientific Advisory Board from 1956-1957, a member of the Board from 1958 to 1961, and Secretary of the Air Force from 1965 to 1969).
Of the seven defense secretaries who have served in the Army, five achieved a higher rank than Panetta's First Lieutenant: George Marshall (Five-Star General), Robert McNamara (Lieutenant Colonel), Louis Johnson (Captain), Caspar Weinberger (Captain), and Les Aspin (Captain).
Elliot Richardson, who was Secretary of Defense for less than four months in 1973, also was a First Lieutenant in the Army, while Clinton appointee William Perry was an enlisted man in the Army Corps of Engineers just after World War II and went on to reach the rank of Second Lieutenant in the Army Reserves in the 1950s.
The Air Force has been represented by two well-known wartime defense secretaries: Kennedy appointee Robert McNamara (1961-1968) who headed the DoD at the beginning of the Vietnam War (and served in the U.S. Army Air Forces) and current Defense Secretary Robert Gates.
Naval alumni are James Forrestral (1947-1949), Robert Lovett (1951-1953), Thomas Gates (1959-1961), Clark Clifford (1968-1969), Melvin Laird (1969-1973), Frank Carlucci (1987-1989), and Donald Rumsfeld (1975-1977, 2001-2006) who also served in the Naval Reserves.
World War II veterans Elliot Richardson and Melvin Laird were Purple Heart recipients while Robert McNamara received the Legion of Merit. George Marshall earned a Distinguished Service Medal as well as a Silver Star.
Follow Smart Politics on Twitter.