Ashton Carter Would Become 7th Defense Secretary Without Military Service
Three in 10 defense secretaries never served in the uniformed military including five of the last 13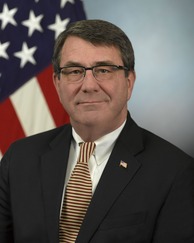 While no official nomination has yet been made, Ashton Carter appears to be Barack Obama's choice to replace outgoing Secretary of Defense Chuck Hagel.
If nominated and confirmed by the U.S. Senate, Carter would become the nation's 25th defense secretary, and the 24th to hold the cabinet position since it was created shortly after World War II in 1947. (Donald Rumsfeld held the position in two stints as the 13th and 21st defense secretaries).
Carter was the nation's former deputy defense secretary under Hagel before resigning a year ago – some 32 years after first entering the Pentagon as a missile defense analyst in 1981.
While Carter never served in the uniformed military, it is unlikely that fact would be a point of controversy per se or a road block to his confirmation by the nation's upper legislative chamber.
If confirmed, Carter would become the seventh defense secretary without military service on his resume, or 29 percent of those to hold the position.
These half-dozen cabinet heads have recorded a collective tenure of more than 21 years, or 32 percent of the time in office of all defense secretaries since 1947.
Each of the last four heads at the Pentagon did serve in the nation's armed forces: Hagel (in the U.S. Army), Leon Panetta (Army), Robert Gates (Air Force), and Donald Rumsfeld (Navy and Naval Reserve).
The last defense secretary who did not serve in the uniformed military was William Cohen, a three-term Republican U.S. Senator from Maine.
Cohen sailed through his U.S. Senate confirmation by a 99-0 vote in 1997 as did his five predecessors who never served in the military: Charles Wilson in 1953 (by a 77-6 vote), Neil McElroy in 1957 (voice vote), James Schlesinger in 1973 (91-0), Harold Brown in 1977 (voice vote), and Dick Cheney in 1989 (92-0).
Of the 17 men to lead the Pentagon over the last 67 years who did serve in the military, nine were in the U.S. Army (including one, Robert McNamara, from the U.S. Army Air Forces), seven in the U.S. Navy, and one in the U.S. Air Force (Gates).
Of the six prior secretaries without military service, four were nominated by Republican presidents: Charles Wilson (Eisenhower), Neil McElroy (Eisenhower), James Schlesinger (Nixon), and Dick Cheney (George H.W. Bush).
Harold Brown (nominated by Carter) and William Cohen (Clinton) also never served, though Brown had been a consultant to the Air Force Scientific Advisory Board from 1956-1957, a member of the Board from 1958 to 1961, and Secretary of the Air Force from 1965 to 1969.
Naval alumni include James Forrestral (defense secretary from 1947-1949, attaining the rank of Lieutenant), Robert Lovett (1951-1953, Lieutenant Commander), Thomas Gates (1959-1961, Lieutenant Commander), Clark Clifford (1968-1969, Captain), Melvin Laird (1969-1973, Ensign), Donald Rumsfeld (1975-1977, 2001-2006, Captain), and Frank Carlucci (1987-1989, Lieutenant).
Defense secretaries who served in the Army are Louis Johnson (1949-1950, Captain), George Marshall (1950-1951, Five-star General), Robert McNamara (1961-1968, Lieutenant Colonel), Elliot Richardson (1973, 1st Lieutenant), Caspar Weinberger (1981-1987, Captain), Les Aspin (1993-1994, Captain), William Perry (1994-1997, 2nd Lieutenant in Army Reserves), Leon Panetta (2011-2013, 1st Lieutenant), and Chuck Hagel (2013-present, Sergeant).
Robert Gates reached the rank of 2nd Lieutenant in the Air Force.
Hagel and World War II veterans Elliot Richardson and Melvin Laird were Purple Heart recipients while Robert McNamara received the Legion of Merit. George Marshall earned a Distinguished Service Medal as well as a Silver Star.
Follow Smart Politics on Twitter.