Wisconsin Eyes Seating a Record-Tying 6th Woman on Its Supreme Court
The Badger State would also break a tie with Oregon for the state with the highest percentage of women supreme court justices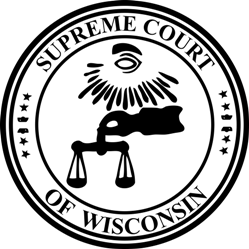 Wisconsinites will vote in a state Supreme Court election for the fourth year in a row next Tuesday, with circuit judges Michael Screnock of Sauk County and Rebecca Dallet of Milwaukee County squaring off on the April 3rd ballot.
It is the state's first open seat race for the court in 11 years, with Justice Mike Gableman opting not to seek a second 10-year term.
The nonpartisan race generally finds conservatives backing Screnock and liberals supporting Dallet.
If Judge Dallet is victorious and seated this summer, the Badger State would have six women on the Supreme Court – tying Washington for the largest number in the nation and breaking a tie with Oregon for the largest percentage of female justices.
Wisconsin has had at least one woman on its Supreme Court since Shirley Abrahamson was appointed to the bench in 1976 by Democratic Governor Patrick Lucey.
Abrahamson later became chief justice and served in that capacity for nearly 19 years and continues to serve as an associate justice.
Joining Abrahamson on the court are four other women: Ann Bradley (since 1995), current Chief Justice Pat Roggensack (2003), Annette Ziegler (2007), and Rebecca Bradley (2015).
Two other women have served on the court in Wisconsin over the last few decades: Janine Geske (1993-1998) and Diane Sykes (1999-2004).
Over the last half-century, three other women have lost a collective four times in the general election for the office:
1999: Green Bay attorney Sharren Rose (lost to Abrahamson by 27.0 points)
2007: Madison attorney Linda Clifford (lost to Ziegler by 17.4 points)
2011: Assistant Attorney General Joanne Kloppenberg (lost to Justice David Prosser by 0.5 points)
2016: Wisconsin Court of Appeals Judge Joanne Kloppenberg (lost to Justice Rebecca Bradley by 4.7 points)
A Dallet win on Tuesday will bring Wisconsin into a tie with the State of Washington for the most women serving on their respective highest courts with six.
The five women on Wisconsin's bench have served more than 103 years in their posts collectively while the six women on Washington's court (Chief Justice Mary Fairhurst, Barbara Madsen, Susan Owens, Debra Stephens, Sheryl Gordon McCloud, Mary Yu) have served just 76.5 years.
It should be noted that Washington seats nine justices on their bench, so Wisconsin already has a higher percentage of women on its supreme court than the Evergreen State (71.4 percent to 66.7 percent).
Oregon is the only other state to equal Wisconsin in that department, with five women on its seven-member court: Martha Lee Walters, Lynn Nakamoto, Meagan Flynn, Rebecca Duncan, and Adrienne Nelson.
Eleven states currently have a majority of women judges or justices on its highest court: Oregon and Wisconsin (five of seven, 71.4 percent), Washington (six of nine, 66.7 percent), New Mexico, Tennessee, Vermont, and West Virginia (three of five, 60.0 percent), and Arkansas, Maryland, Minnesota, and Ohio (four of seven, 57.1 percent).
Iowa is the only state in the nation currently without a woman on its supreme court and 12 states have just one – almost all deep red states: Alaska, Arizona, Delaware, Idaho, Indiana, Louisiana, Mississippi, North Dakota, Rhode Island, South Carolina, South Dakota, and Utah.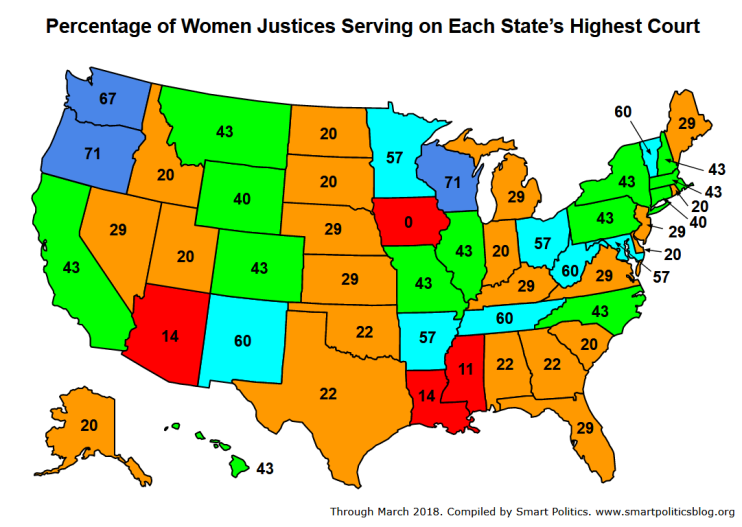 Overall, 119 of the 332 seats on the high courts across the country are held by women, or 35.8 percent – much higher than the percentage of women elected to prominent legislative or executive offices.
Sixteen states currently have a woman serving as chief justice.
Follow Smart Politics on Twitter.