Wisconsin's Supreme Court Election by the Numbers
Women have now defeated men in 12 of 14 head-to-head matchups in Badger State elections to its highest court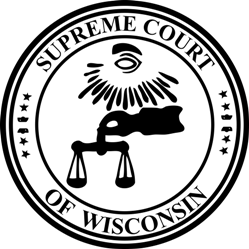 With the victory of Janet Protasiewicz over Dan Kelly in Wisconsin's Supreme Court Election on Tuesday, the Badger State will retain its status of having the largest percentage of women across the country's 50 state high courts.
Protasiewicz will replace former Chief Justice Pat Roggensack whose term expires this June ensuring women will retain six of the Court's seven seats, or 86 percent.
With Protasiewicz's victory, women have now been victorious in 12 of 14 general elections against men in Wisconsin Supreme Court electoral history with each of the two losses very close calls.
In 2011, Assistant Attorney General Joanne Kloppenburg was defeated by Justice David Prosser by 0.5 points in a high profile proxy election for Democrats who were angered by the policies of newly-elected Governor Scott Walker.
Eight years later, Brian Hagedorn defeated Lisa Neubauer by less than 6,000 votes in a 2019 matchup of fellow Wisconsin Court of Appeals judges.
Overall, women have won 17 of 22 general elections to the Wisconsin Supreme Court.
Two others won unopposed (Ann Bradley in 2005 and Annette Ziegler in 2017) with three additional women vs. women general election matchups: Chief Justice Shirley Abrahamson over Green Bay attorney Sharren Rose in 1999, Washington County Circuit Court Judge Annette Ziegler over Madison attorney Linda Clifford in 2007, and Justice Rebecca Bradley beating Wisconsin Court of Appeals Judge JoAnne Kloppenburg in 2016.
Looking at the entire nation, 137 of the 328 non-vacant state high court seats are currently held by women, or 41.8 percent.
That number is up 15 seats from five years ago, when 122 women justices held the 321 non-vacant seats at the time of a March 2018 Smart Politics report.
At that time, Iowa was the only state without a woman justice, though two of its seats are now held by women (Justices Susan Christensen and Dana Oxley).
Today, South Carolina is the only state without a woman justice on its high court with all but just six other states comprised of at least two (Indiana, Louisiana, Mississippi, New Hampshire, North Dakota, and Virginia).
In addition to Wisconsin, women account for more than two-thirds of the high court seats in three other states: Washington (seven of nine, 78 percent) and Illinois and Nevada (five of seven each, 71 percent).
Ten other courts are majority-women: New Mexico, Rhode Island, Tennessee, Utah, and Wyoming (all three of five, 60 percent) and Arkansas, California, Maryland, Michigan, and Minnesota (all four of seven, 57 percent).
Three other seven-seat courts with vacancies currently have three of six seats held by women: New Jersey, New York, and Pennsylvania.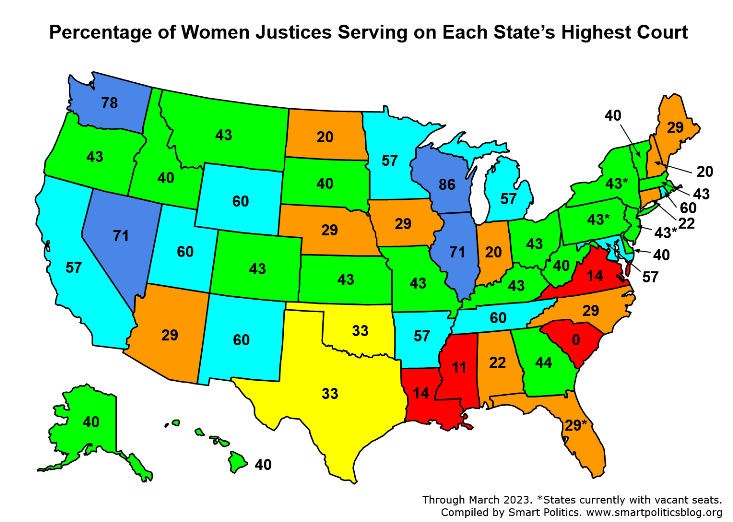 [It should be noted that Texas and Oklahoma each have a Criminal Court of Appeals that is the highest court in each respective state on criminal appellate issues. The data in the figure above reflect the membership composition of the Texas and Oklahoma Supreme Courts only.].
Slightly more than one-third of state high court chief justices are currently women – 17 of 50.
Follow Smart Politics on Twitter.