Will Each Party Flip States in the 2020 Presidential Election?
Such a scenario has only occurred two times since 1968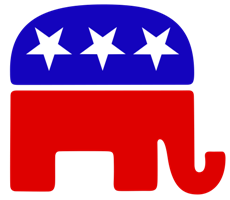 It is a near certainty that the 2020 presidential map will look at least slightly different than the one from 2016: no two maps have been identical from cycle-to-cycle in U.S. history.
And while more than a handful of states could flip this November, it should be noted that the nation is in the midst of a historic holding pattern.
Before the 2016 election, Smart Politics documented how the 2012 map recorded the lowest ever percentage of states flipping from the previous cycle (just four percent) and that the nation was in the midst of its lowest rate of change across the last three-, four-, five-, six-, seven-, eight-, and nine-cycle periods.
Following the 2016 contest, which saw a modest six states flip from 2012, the nation has still seen the fewest states flip across the last two-, four-, six-, seven-, nine-, and ten-cycle stretches.
In short, red states are staying red and blue states are staying blue with more consistency in recent elections than the nation has ever witnessed in its history.
While Joe Biden and the Democrats are eyeing several states to flip this November, Donald Trump is also trying to make a play in states like New Hampshire, Nevada, and Minnesota.
But how likely is it that both nominees will flip states for their party this year?
Looking back at the last five decades of presidential elections since 1968, only one major party flipped states in 11 of these 13 cycles.
Republicans were the only major party to pick up states in seven cycles: 30 states in 1968, 17 in 1972 (including five from the American Independent Party), 17 in 1980, five in 1984, 11 in 2000, two in 2012, and six in 2016.
Democrats were the only party to pick up states in four cycles: 22 states in 1976, nine in 1988, 22 in 1992, and nine in 2008.
The only cycles in which both states made inroads during the last half-century were 1996 and 2004.
In 1996, Bob Dole picked off three states won by Bill Clinton in 1992 (Colorado, Georgia, Montana) while Clinton flipped two others he lost four years prior (Arizona and Florida).
In 2004, President George W. Bush picked up two states he lost to Al Gore (Iowa and New Mexico) while Senator John Kerry flipped New Hampshire to the Democrats.
During the previous 13 cycles, from 1916 through 1964, it was much more common for each party to make such cycle-to-cycle gains.
Both parties flipped states seven times during this period:
1916: 16 states to the Republicans (three from the Progressive Party) and three to the Democrats (two from the Progressives)
1924: Two to the Democrats and one to the Republicans
1928: Seven to the Republicans (one from the Progressives) and two to the Democrats
1944: Three to the Republicans and one to the Democrats
1948: Nine to the Republicans and five to the Democrats
1956: Three to the Republicans and one to the Democrats
1964: 25 to the Democrats and five to the Republicans
It is unlikely the 2020 election will produce a map with, say, Michigan or Wisconsin going blue and Minnesota turning red (it's never happened in Michigan and only once in Wisconsin, in 1892).
If one had to draw up a map which did see both parties gaining new seats, a better bet (though still not great odds) might be New Hampshire turning red with Pennsylvania going blue. That scenario played out in 1960, 1968, 1976, and 2000.
Follow Smart Politics on Twitter.