North Carolina: The Perennial US Senate Battleground
The Tar Heel State has reliably served up competitive races for the nation's upper legislative chamber more than any other state for decades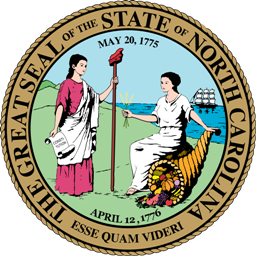 Among the many high profile U.S. Senate races of the 2020 cycle is North Carolina's battle between former state Senator Cal Cunningham and first term incumbent Thom Tillis.
As the contest shatters national records for the most money ever spent in a U.S. Senate race – at north of a quarter billion dollars – it is worth revisiting one of the reasons why political parties, campaign committees, and outside groups are so interested in the Tar Heel State: it has consistently served up competitive races for the office for decades like no other.
Since 1990, North Carolina leads the nation with both the largest number of U.S. Senate elections decided by single digits (nine, out of 10 contests) as well as the narrowest average victory margin (6.1 points).
North Carolina is one of just six states with an average victory margin of less than 10 points, joined by Colorado (8.5 points), Missouri (8.8), Nevada (9.1), Pennsylvania (9.3), and New Jersey (9.8).
Minnesota (11.3 points), Kentucky (12.3), Wisconsin (12.5), and Washington (12.6) round out the Top 10.
Taking a longer view, 14 of the last 15 elections for U.S. Senate in North Carolina have been decided by single digits since 1978. Republicans have won 11 of these with just four for the Democrats.
The Cunningham vs. Tillis contest is sure to add to this impressive tally of close races next week.
The only 'non-competitive' race during the last 40+ years was Senator Richard Burr's 11.8-point win over Secretary of State Elaine Marshall in 2010 (a race closer than the average victory margin in 43 states).
North Carolina's 2020 presidential race also boasts 'toss up' status and is expected to be decided by just a few percentage points.
Even though the GOP has won six of seven presidential races in the state, North Carolina is one of just five states that ranks in the Top 10 for the most competitive elections in both presidential and U.S. Senate elections over the last three decades.
Since 1992, North Carolina's margin of victory in presidential contests has been 5.3 points – tied for fifth in the nation with Wisconsin and trailing only Florida (2.5 points), New Hampshire (4.2), Ohio (4.2), and Nevada (4.5).
Colorado (5.4 points), Virginia (5.4), Pennsylvania (6.0), and Arizona (6.0) complete the Top 10.
Colorado, Nevada, North Carolina, Pennsylvania, and Wisconsin are the only states on the Top 10 lists for both federal offices.
The U.S. Senate races in more than half the states have been decided by an average of more than 20 points since 1990 – 28 of 50 states.
Two states eclipse 40 points – Hawaii (40.9 points) and Wyoming (40.1) – while eight others come in at more than 30 points: Idaho (36.4), Mississippi (34.3), Kansas (34.0), Vermont (33.7), Utah (33.0), Oklahoma (30.8), West Virginia (30.5), and Rhode Island (30.2).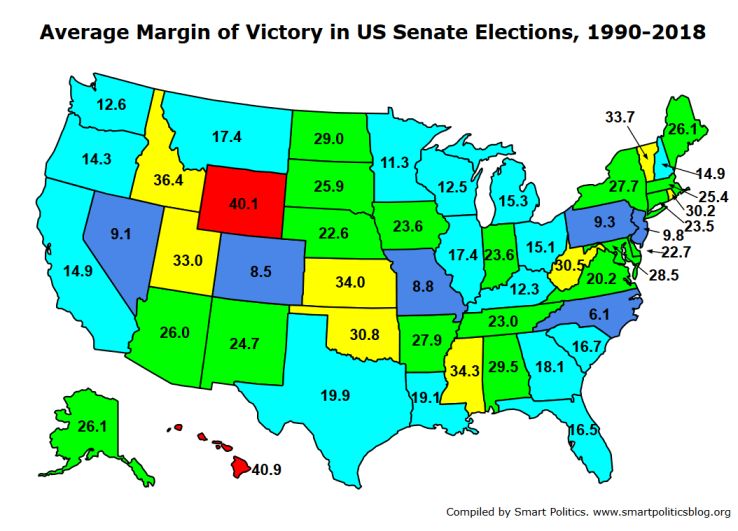 Eleven states have had at least half of their U.S. Senate elections decided by single digits since 1990: North Carolina, Colorado, Missouri, Nevada, New Hampshire, Virginia, Pennsylvania, Minnesota, Georgia, Wisconsin, and Montana.
Meanwhile, seven states have not had any: Delaware, Idaho, Kansas, Maryland, Oklahoma, Utah, and Wyoming.
Kansas is poised to get off that list next week.
Follow Smart Politics on Twitter.