36 States Set or Extend All-Time Democratic and GOP Presidential Winning Streaks
Nearly three-quarters of the states remain in the midst of record partisan dominance in elections to the White House by one of the two major parties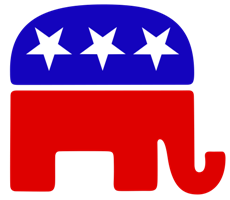 In a modern political era in which the flipping of states in presidential elections is at a historic low, it should come as little surprise that the 2020 cycle saw the vast majority of states continue record-setting performances by either Democrats or Republicans.
In total, 36 states extended, set, or tied a partisan winning streak in elections to the White House.
Three states saw new partisan records set:
Maryland Democrats won their eighth straight election for president. The party had also won seven in a row from 1868-1892.
Montana Republicans notched their seventh consecutive presidential victory since 1996. The party had previously also won six in a row from 1968-1988.
Colorado Democrats set a new party record with their fourth straight win. Democrats had also claimed three straight victories from 1908-1916.
Democrats also tied their best run ever in one state. With Joe Biden's double-digit victory, Illinois Democrats tied a state party record with their eighth consecutive presidential win. The party was also victorious in eight straight cycles from 1828-1856.
Meanwhile, 32 states extended all-time records already held by the Democratic and Republican parties heading into Election Day.
On the Republican side, parties in nine states notched their 14th consecutive presidential win dating back to Richard Nixon's victory in 1968: Alaska, Idaho, Kansas, Nebraska, North Dakota, Oklahoma, South Dakota, Utah, and Wyoming.
These nine states are now tied with seven others for the second longest GOP winning streak in party history. Iowa, Maine, Massachusetts, Michigan, New Hampshire, Ohio, and Rhode Island also rattled off 14 wins in a row from 1856-1908.
All 16 states trail well behind Vermont for the all-time party record of 27 straight Republican victories set from 1856-1960.
Also extending their streaks for the GOP were Alabama, Mississippi, South Carolina and Texas at 11 in a row since 1980 and Arkansas, Kentucky, Louisiana, Missouri, Tennessee, and West Virginia at six in a row since 2000.
On the Democratic side, Minnesota extended its best-outside-the-South party record of 12 consecutive victories.
Minnesota is currently tied for the tenth longest Democratic winning streak in party history along with Tennessee (1872-1916).
Biden also extended record party highs for a ninth straight Democratic win since 1988 in six states (Hawaii, Massachusetts, New York, Oregon, Rhode Island, Washington) and six in a row since 1992 in seven others (California, Connecticut, Delaware, Maine, Maryland, New Jersey, Vermont).
All told, Republicans are currently in the midst of all-time state party records in 20 states with the Democrats owning 16 in their column [plus the District of Columbia, which has never backed  a GOP nominee for the office].
One state party record ended in the 2020 cycle when Trump failed to carry Georgia ending a string of six consecutive wins.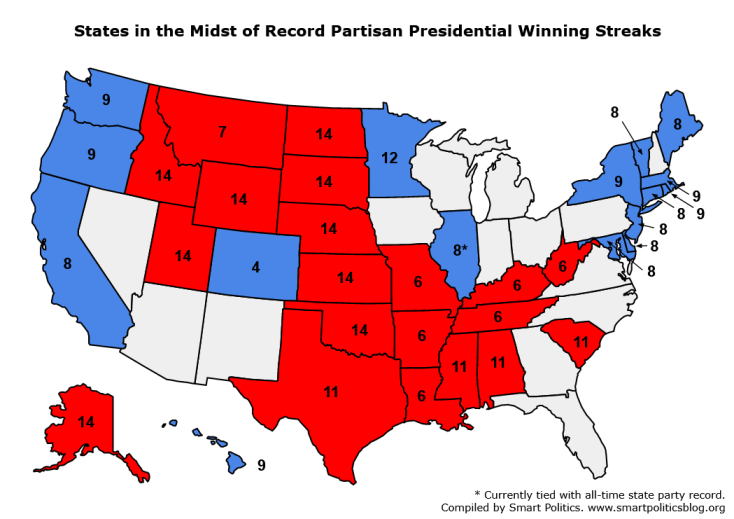 Looking ahead to 2024, a few more states could be added to this list with record-setting or tying wins – all on the Democratic side.
As referenced above, Illinois can set a new Democratic record at nine in a row since 1992.
New Hampshire can tie the party mark of six straight wins (previously set 1832-1852) while Nevada and New Mexico can tie their respective state records of five in a row (previously set 1932-1948).
Follow Smart Politics on Twitter.