Indiana Democrats Hit Rock Bottom in 2020 Gubernatorial Race
The party set multiple unwanted records in this year's election for governor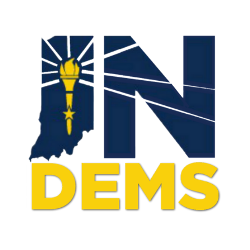 While Democrats were not expecting to unseat first term Governor Eric Holcomb in last November's election, sustained support for a third party candidate and decent approval ratings for the incumbent resulted in nominee Woody Myers running nearly nine points behind Joe Biden at the top of the ticket.
As a result, the former Indiana State Health Commissioner won the lowest percentage of the vote in Indiana Democratic Party history, the party failed to win at least 40 percent of the vote for the first time, and Indiana Democrats suffered their largest loss in a race for governor since the party first appeared on the ballot for the office over 180 years ago.
Myers won just 32.05 percent of the vote against Governor Holcomb – 8.9 points behind Biden. By comparison, and despite Libertarian Donald Rainwater winning  a state party record 11.4 percent, Holcomb's 56.5 percent fell only 0.5 points behind Donald Trump at the top of the GOP ticket.
Prior to 2020, the least support received by a Democratic gubernatorial nominee in Indiana was Jill Thompson's 40.0 percent against Governor Mitch Daniels in 2008. [Note: Jacksonian Democratic state Senator Israel Canby also won 32.0 percent of the vote in 1828].
Rounding out the bottom five are former state Senator John Kern's 41.0 percent in 1904, Carleton McCullough's 41.2 percent in 1920, and John Hillenbrand's 41.9 percent in 1980.
In failing to reach even the 40 percent mark, Myers' support was 16.2 points below the Democratic average of 48.3 percent in gubernatorial elections from 1834 through 2016.
Myers's 24.5-point loss to Holcomb also set a new party record and marked just the ninth time Republicans had defeated a Democratic nominee for governor by double digits.
The blowout easily broke the previous mark set by Mitch Daniels during his 17.8-point trouncing of Jill Thompson in 2008.
The 2020 contest also goes down in the books as having the second largest victory margin in an Indiana gubernatorial contest by any party during the post-1828 modern two-party era.
Holcomb fell just shy of Democratic Governor Evan Bayh's 25.1-point win over Indiana Attorney General Linley Pearson in 1992.
Indiana Republicans are now in the midst of a five-cycle gubernatorial winning streak in the state dating back to Mitch Daniels' first win in 2004 – tied for the best in party history. The GOP also won five consecutive elections for the office from 1968 to 1984.
Democratic gubernatorial nominees have now won a majority of the vote in only 15 of 49 cycles since 1834, but were victorious in 21 of these elections.
Follow Smart Politics on Twitter.