The Quick Rebound: A Brief History of Defeated US Senators Elected in the Next Cycle
Since 1914, less than a dozen U.S. Senators have been unseated and subsequently elected back to the chamber two years later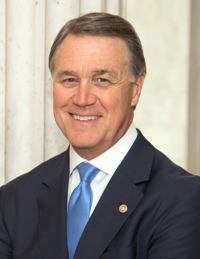 Georgia Republican David Perdue's journey from U.S. Senator, to losing nominee in the 2020 runoff, to 2022 U.S. Senate candidate for the state's other seat all took place within a handful of weeks. [Update: The morning after this report was published Perdue, who had filed preliminary paperwork for a bid, announced he would not be running for the office in 2022].
Perdue failed in his bid for a second term in the chamber with a 1.2-point loss to Jon Osoff in the 2020 general election. He now seeks to unseat Raphael Warnock next November following that Democrat's 2.1-point runoff victory over appointed Senator Kelly Loeffler.
Winning back a seat in the U.S. Senate just two years after getting voted out of office is not without precedent, but the number of successful cases are not plentiful in the direct election era.
Since 1913, less than a dozen U.S. Senators who were defeated in their quest for another term were able to get back on the ballot and win election to the chamber by the next cycle. Like Perdue, all but one had served six or fewer years in the chamber at the time of their defeat.
And just two of these senators made such comebacks during the last 65 years.
Washington Republican Slade Gorton lost the 1986 election by 2.0 points to Brock Adams after serving one full term. Gorton came back to win the state's other senate seat in 1988 by 2.2 points over U.S. Representative Mike Lowry en route to two more terms.
Ohio Democrat Howard Metzenbaum's path was slightly different as he was first appointed to the U.S. Senate in January 1974. Four months later, he lost the Democratic primary to former astronaut John Glenn by 8.8 points and resigned from his seat a few weeks before the start of the new term in January 1975.
Two years later, in 1976, Metzenbaum ousted first-term Republican Senator Robert Taft, Jr. with a 3.0-point victory and was sworn into office via the state's other U.S. Senate seat.
Gorton and Metzenbaum are the only senators to accomplish this feat since the mid-1950s.
From 1914 through 1956, eight other defeated U.S. Senators came back to win a seat during the subsequent cycle:
Kansas Republican Charles Curtis (1907-1913, 1915-1929): Curtis lost the 1912 primary to Walter Stubbs (winning more votes but losing the legislative district count). In 1914, the former senator narrowly defeated an incumbent Republican Joseph Bristow in the primary and Democrat George Neely in the general.
Delaware Republican T. Coleman DuPont (1921-1922, 1925-1928): The appointed senator was defeated by attorney Thomas Bayard after less than 1.5 years in office. DuPont then won the 1924 GOP nomination against incumbent L. Heisler Ball en route to an easy victory over Democratic educator James Tunnell.
Massachusetts Democrat David Walsh (1919-1925, 1926-1947): Walsh was denied a second term when U.S. Representative (and House Speaker) Frederick Gillett beat him by 1.7 points. Walsh then defeated appointed Senator William Butler in 1926's special election.
Iowa Republican Smith Brookhart (1922-1926, 1927-1933): Senator Brookhart was initially declared the winner of the 1924 election against attorney Daniel Steck by less than 800 votes. But Steck contested the election and the U.S. Senate eventually declared him the winner and unseated Brookhart in April 1926. Brookhart then defeated former colleague Senator Albert Cummins in the 1926 GOP primary and bested Claude Porter in the general election to return to the chamber.
West Virginia Democrat Matthew Neely (1923-1929, 1931-1941, 1949-1958): Neely lost his bid for a second term in 1928 to former Governor Henry Hatfield. Neely turned around two years later and coasted to an easy open seat race victory against James Jones in 1930.
New Jersey Republican William Barbour (1931-1937, 1938-1943): Barbour was defeated for reelection during the 1936 Democratic tsunami by assistant New Jersey Attorney General William Smathers. Barbour then won an open seat special election in 1938 against William Ely.
Wyoming Democrat Joseph O'Mahoney (1934-1953, 1954-1961): O'Mahoney had served nearly 19 years in the U.S. Senate when he was unseated by U.S. Representative Frank Barrett in 1952. In 1954, however, O'Mahoney won open-seat special and general elections against U.S. Representative William Harrison and returned to the legislative body.
Kentucky Republican John Cooper (1946-1949, 1952-1955, 1956-1973): During his second stint in the U.S. Senate, Cooper lost the 1954 general election to former Vice President and ex-U.S. Senator Alben Barkley. Barkley's death in April 1956 necessitated a special election in which Cooper won back his seat by defeating former Governor Lawrence Wetherby.
Another example, although coming with an asterisk, is that of Idaho Republican Henry Dworshak. Dworshak won a 1946 special election but was defeated for a second term by state Supreme Court Justice Bert Miller in 1948. Miller served only nine months before his death in October 1949 at which point Dworshak was appointed back to his old seat by Governor C.A. Robins. He then successfully won the 1950 special election as an incumbent and two more full terms thereafter.
One notable defeated senator who attempted this quick turn-around but failed was Republican Scott Brown – who famously did so in two states. Senator Brown lost the 2012 general election in Massachusetts to Elizabeth Warren and then failed to unseat New Hampshire U.S. Senator Jeanne Shaheen two years later (becoming the first major party nominee to lose to two women in U.S. history).
Other former U.S. Senators have returned to the chamber but did not exit via defeat, such as New Jersey Democrat Frank Lautenberg who was a last-minute nominee for his party in 2002 following a two-year retirement when legal issues forced nominee Robert Torricelli to step aside.
Lautenberg won that November in what was his fourth of five nonconsecutive U.S. Senate electoral wins.
Follow Smart Politics on Twitter.