Republicans in the Midst of Best Gubernatorial Run in 90+ Years
Since the election of Barack Obama, the GOP has recorded its best mark in races for governor since the 1920s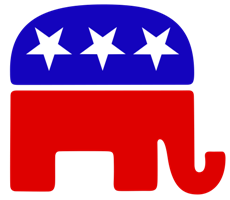 With 2020 U.S. Census numbers in the books, states are now looking ahead to drawing new legislative and congressional district lines, which is still a partisan process in most states.
Democrats, who were at a power deficit when the 2012 district lines were drawn, helped their cause in some states by picking up or holding gubernatorial seats during the last few cycles in states where the GOP controls both legislative chambers such as Kentucky, Louisiana, Michigan, Pennsylvania, and Wisconsin. [Note: In 2018, Michigan voters simultaneously and overwhelmingly approved a ballot initiative creating an independent commission].
Nonetheless, Republicans remain in a dominant position to redraw district lines nationally and have overall recorded an impressive track record in elections for governor during the last several cycles.
In fact, since Barack Obama took office, the GOP has racked up gubernatorial victories on a pace not seen by the party in nearly a century.
Dating back to Obama's first year in 2009, Republicans have won 94 of 160 gubernatorial elections, or 58.8 percent.
That is the best winning percentage enjoyed by the GOP over a 12-year period since 1918-1929 when Republicans claimed 134 of 222 contests, or 60.4 percent.
During the last dozen years, Republicans have dominated the midterm election cycles (67 of 109, 61.5 percent), performed better than average during presidential years (19 of 35, 54.3 percent), and drawn even during off-year cycles (8 of 16, 50.0 percent).
The GOP particularly ran up the score during President Obama's eight years in office, winning 65 of 108 elections (60.2 percent).
But Donald Trump was able to accomplish a feat that eluded the vast majority of his 20th and 21st Century predecessors: over the course of his four years in office, a majority of gubernatorial elections were won by his party (28 of 52, 53.8 percent).
Only seven of the 21 presidents since William McKinley saw their party win a majority of elections for governor during their presidency with Trump the first to do so since Jimmy Carter.
By contrast, Democrats won only 38 percent of gubernatorial races under Barack Obama (41 of 108) – which ranks 17th out of the 21 presidents in the White House since the turn of the 20th Century.
Republicans have maintained a 12-year rolling majority winning percentage in races for governor over the last generation – last falling below that mark from 1986-1997 (78 of 158, 49.4 percent).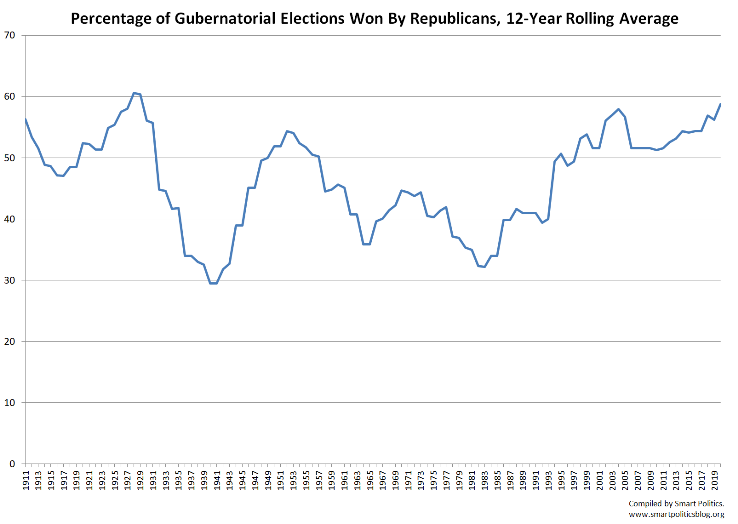 Overall, Republicans have won 922 of 1,939 gubernatorial contests since 1900 (47.6 percent) with Democrats winning 994 (51.3 percent), and third party and independent candidates claiming the remaining 23 (1.2 percent).
As a result of the recent GOP dominance, the current 12-year record for Democrats in gubernatorial races – 64 wins and 96 losses (40.0 percent) – is the worst mark for the party since 1918-1929 when they were victorious in only 88 of 222 races (39.6 percent).
Although Republicans are rosy about their chances during the 2022 midterms, the party does have more exposure than the Democrats – currently holding 20 of the 36 gubernatorial seats on the ballot.
Follow Smart Politics on Twitter.