Will Wisconsin's New Congressional Districts Be More Competitive?
The state's current map produced the fewest competitive races in Wisconsin history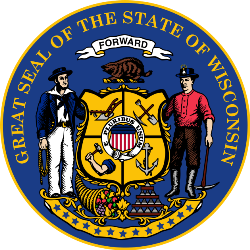 Wisconsin's battleground state credentials are undisputed in modern U.S. politics.
The Badger State is one of just three states to see each of its gubernatorial races decided by single digits during the 21st Century (along with Maine and Oregon) and one of a dozen to host at least five presidential races with victory margins under 10 points during this span (along with Arizona, Colorado, Florida, Iowa, Michigan, Minnesota, Nevada, New Hampshire, Ohio, Pennsylvania, and Virginia). [In fact, 12 of the last 14 presidential elections since 1968 have been decided by single digits in Wisconsin].
However, unlike its neighbor to the west, Wisconsin has not been known for producing many nail-biter U.S. House races in recent election cycles.
In fact, since new district lines went into effect in 2012, only one of the state's elections to the chamber was decided by less than 10 points – Democrat Ron Kind's 2.7-point victory to win his 13th term to the 3rd CD last November.
Few other congressional races over the last decade even caused a ripple in the Badger State's political sea – excepting perhaps Paul Ryan's relatively close 11.5-point win while serving as the House Budget Committee Chair in 2012.
The lack of competitive races under the current district map is unlike anything previously seen in the Badger State.
During the previous five cycles since 2012, just one of 41 elections resulted in a victory margin of less than 10 points, or 2.4 percent.
That is the lowest in Wisconsin history and just the second time fewer than 10 percent of elections in a given redistricting cycle failed to be remotely competitive.
Prior to the current map, the previous low water mark came during the 1982-1991 period during which two of 46 elections were single-digit affairs, or 4.3 percent:
1990 (2nd CD): Republican Television anchor Scott Klug unseated 16-term Democrat Bob Kastenmeier by 6.4 points
1990 (8th CD): Six-term Republican Toby Roth bested State Senator Jerome Van Sistine by 7.1 points
The subsequent 1992-2001 map did produce a fair number of close races: 11 of 46, 23.9 percent, which was just shy of the average since statehood (193 of 789, 24.5 percent). Four of these contests were within three points:
1993 (1st CD, special): Democrat State Assemblyman Peter Barca nipped real estate developer and 1992 GOP nominee Mark Neumann by 0.6 points
1994 (1st CD): Neumann turned the tables and defeated Barca by 0.7 points in a rematch 18 months later
1996 (1st CD): Neumann won a second term by beating Kenosha City Council member Lydia Spottswood by 1.9 points
2000 (2nd CD): Freshman Democrat Tammy Baldwin defeated University of Wisconsin-Madison American and political history professor John Sharpless by 2.8 points
However, the 2002-2011 map yielded only five single-digit contests out of 40 elections (12.5 percent) – now the third lowest rate in Wisconsin history:
2006 (8th CD): Democratic physician Steve Kagen won an open seat race against Assembly Speaker John Gard by 2.1 points
2008 (8th CD): Kagen defeated Gard in a rematch by 8.1 points to win a second term
2010 (3rd CD): Democrat Ron Kind won his eighth term by 3.8 points against State Senator Dan Kapanke
2010 (7th CD): Republican Ashland County District Attorney Sean Duffy won an open seat by 7.7 points against State Senator Julie Lassa
2010 (8th CD): Kagen's luck ran out during the GOP tsunami coming up 9.7 points short against builder Reid Ribble
Overall, from 1982 through 2021, just 19 of 173 elections were decided by less than 10 points, or 11.0 percent – including none in 10 of these 20 cycles: 1982, 1984, 1986, 1988, 2002, 2004, 2012, 2014, 2016, and 2018.
The general lack of close contests during these last 40 years belies not only the state's aforementioned battleground status but also the previous 130+ years of U.S. House contests.
For 57 consecutive election cycles from 1868 through 1980, at least one U.S. House race was decided by single digits in Wisconsin.
And from statehood in 1848 through 1981, 174 of 616 elections to the office had victory margins under 10 points, or 28.2 percent of all general and special elections.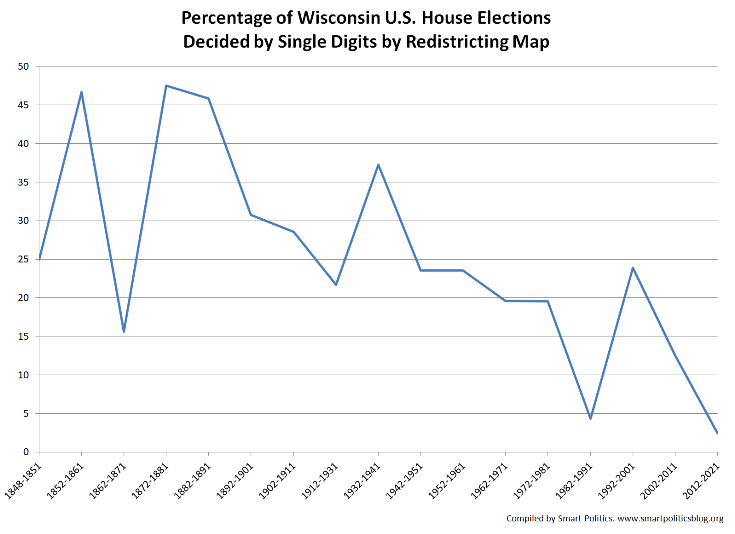 Winners of nearly half of the elections held under three maps did so by single-digits: 1852-1861 (seven of 15, 46.7 percent), 1872-1881 (19 of 40, 47.5 percent), and 1882-1891 (22 of 48, 45.8 percent).
Not surprisingly, when looking at the victory margins for all U.S. House elections during each congressional district map since statehood, four of the five maps with the largest average victory margin have occurred during the last four redistricting periods: 1982-1991 (45.3 points), 1913-1931 (40.0 points), 2002-2011 (37.4 points), 2012-2021 (30.7 points), and 1992-2001 (30.6 points). [Note: There was no redistricting after the 1920 U.S. Census].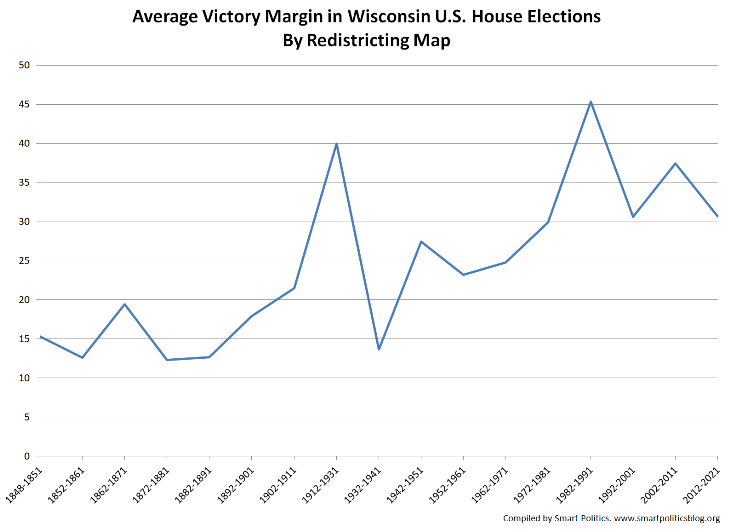 The closest U.S. House race in Wisconsin history came in 1874's 8th CD race when Democratic-Reform nominee George Cate defeated freshman Republican Alexander McDill by two votes out of more than 19,000 cast.
Fifteen elections to the chamber have been decided by less than a percentage point since statehood, or approximately 1 in 50 races (1.9 percent).
Follow Smart Politics on Twitter.