Paul LePage and a Brief History of Maine Gubernatorial Comeback Bids
Former Pine Tree State governors have won back their old seat in just two of 12 attempts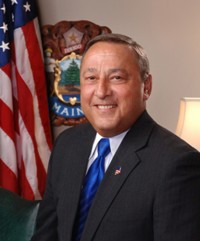 While Democratic Governor Janet Mills has yet to officially declare her 2022 intentions, Paul LePage got a jump start on next year's gubernatorial race by formally filing as a candidate before the holiday weekend.
The former governor, who was term-limited in 2018 when Mills won the governorship, has been expected to run for his old seat for the last year.
LePage is just the fourth Maine governor since before the Civil War to make a comeback bid for the office and is attempting to become the first to make a victorious run since the early 1840s.
LePage is also the third former governor to launch such a campaign this cycle, joining Democrat Charlie Crist of Florida and Republican Jeff Colyer of Kansas. [Smart Politics recently reviewed the history of gubernatorial comebacks in an early May report].
Prior to LePage, three former Maine governors launched gubernatorial bids during the modern primary era.
Democrat Louis Brann (1933-1937): After serving two two-year terms, Brann was narrowly defeated in the 1936 U.S. Senate election by incumbent Wallace White. In the GOP-friendly 1938 cycle, Brann tried to unseat his successor, Governor Lewis Barrows, but lost by 5.9 points.
Republican Horace Hildreth (1945-1949): Likewise, after serving two two-year terms, Hildreth ran for the U.S. Senate in 1948 but lost the GOP nomination to Congresswoman Margaret Chase (as did former Governor Sumner Sewall who placed third). A decade later, following his ambassadorship to Pakistan, Hildreth lost the open gubernatorial race of 1958 by 4.0 points to former Waterville Mayor Clinton Clauson.
Democrat Joseph Brennan (1979-1987): Brennan was a sitting two-term U.S. Representative when he launched his first comeback campaign in 1990. No Democrat opposed Brennan in the primary but he came up 2.6 points short of defeating Governor John McKernan. In 1994, Brennan notched majority support in the five-candidate Democratic primary but placed a close second again in the general election – just 1.5 points behind independent Angus King.
Overall, just two ex-governors have won elections to interrupted terms in Maine history – and they did so in back-to-back cycles.
Whig Edward Kent first served a single, one-year term after winning the Election of 1837. Kent lost reelection in 1838 to Democrat John Fairfield.
In 1839, Kent attempted to win back his seat, but Fairfield defeated him by 8.1 points.
However, Kent launched a second rematch against Fairfield in 1840 and escaped with a 67-vote victory – the first successful gubernatorial comeback bid in Maine history.
In 1841, during the fourth consecutive matchup between these two candidates, Fairfield won back his seat with a decisive 12.3-point victory over Governor Kent.
Fairfield's 1841 win was the second and last comeback victory in Maine gubernatorial election history.
In addition to the four aforementioned failed comeback bids during the 20th Century and Kent's 1839 campaign there have been five others that came up short:
1835: Whig William King (1820-1821), a former Jeffersonian Republican governor, lost the general election by 24.1 points to Democratic Governor Robert Dunlap
1854: Democrat Albion Parris (1822-1827), a former Jeffersonian Republican governor, lost by 17.8 points to American Party nominee Anson Morrill in his attempt to return to his old seat more than a quarter-century after leaving office
1861: Democrat John Dana (1847-1850) placed a distant third behind Republican Governor Israel Washburn and War Democrat nominee C.D. Jamieson. [Note: Dana technically served a single day as acting governor in 1844].
1873: Liberal Republican nominee Joseph Williams (1857-1858), who served almost the entirety of Hannibal Hamlin's term, placed third with 2.6 percent of the vote in an election won by state Representative Nelson Dingley
1877: Williams, this time running as the Democratic nominee, lost to Governor Selden Connor by 11.1 points
The last governor to lose reelection in Maine was John Reed in 1966 – falling 6.3 points short to Secretary of State Kenneth Curtis in a bid for a third term.
LePage is currently the only Republican to file for governor in the 2022 cycle.
While clearly the frontrunner for the nomination, it would be unusual if he runs unopposed. There have been nine instances in which Republican gubernatorial nominees ran unopposed across 40 primaries conducted since 1912. Eight of these nine cycles involved incumbents: William Haines (1914), Carl Milliken (1918), Sumner Sewall (1942), Frederick Payne (1950), Burton Cross (1954), John Reed (1962), John McKernan (1990), and LePage (2014). The only cycle in which a non-incumbent cleared the field was Reed's first gubernatorial campaign in 1960.
Follow Smart Politics on Twitter.