Which States Will Be Gubernatorial Battlegrounds in 2022?
Less than a quarter of the states have currently hosted elections for governor decided by single digits in back-to-back cycles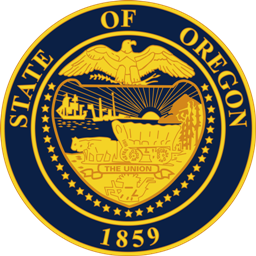 Among the constants in U.S. politics in recent decades are that Republicans win the governorships of South Dakota (11 in a row since 1978) and Utah (11 in a row since 1984) as do Democrats in Washington (10 in a row since 1984) and Oregon (10 in a row since 1986).
Not surprisingly, South Dakota's 2022 gubernatorial race is rated "solid" or "safe" Republican by the nation's leading prognosticators (no Democrat has currently filed for the race).
However, South Dakota's 2018 gubernatorial election was the sixth closest among the 36 on the ballot that cycle with Democratic nominee Billie Sutton coming just 3.4 points shy of winning the open seat as his party lost 89 of 105 state legislative districts.
It marked the first election since 1986 in which Democrats came within 14 points of the Republican nominee in the state.
Meanwhile, even though Democrats have amassed nearly as long of a string of victories for governor in Oregon, the GOP has come within eight points during each of the last six cycles since 2002.
The short story is that, even in deep red and blue states, candidates still matter – particularly in elections for state office.
To be sure, it is more difficult today for state politicians to shed their association with the national party in order to have greater appeal to crossover voters in states with an unfavorable partisan lean.
That said, there are still plenty of examples of Democratic and Republican governors of deep red and blue states respectively (e.g. John Bel Edwards in Louisiana, Laura Kelly in Kansas, Charlie Baker in Massachusetts, Larry Hogan in Maryland, and Phil Scott in Vermont).
And thus, early in an election cycle, it is sometimes unclear which states will ultimately be competitive on Election Day.
In fact, less than a quarter of the states in the nation are currently coming off two or more consecutive elections for governor decided by single digits.
The aforementioned Oregon and Wisconsin lead the way – each seeing winning margins of less than 10 points for the last six cycles.
Wisconsin's last six races – including the 2012 Scott Walker recall contest – have been decided by an average of 5.1 points with Democrats winning three (Jim Doyle in 2002 and 2006 and Tony Evers in 2018) and the GOP winning three (Walker in 2010, 2012, and 2014).
Oregon's last six elections for governor have been decided by an average of 5.3 points with Democrats winning all of them.
Maine is next at five straight contests with single-digit victory margins dating back to 2002 – buoyed in part by very strong third party showings that compressed the two-party vote difference in most of these races. [Third party candidates tallied 11.4 percent in 2002, 31.7 percent in 2006, 42.8 percent in 2010, 8.4 percent in 2014, and 5.9 percent in 2018].
Florida – home to the closest gubernatorial wins during the 2014 and 2018 cycles and the fourth narrowest in 2010 – has the third longest single-digit streak at four in a row.
One state has done so in three consecutive elections (Connecticut) with seven states doing so in two straight (Alaska, Georgia, Kansas, Kentucky, Michigan, North Carolina, Virginia).
Of these dozen states with current streaks of two or more races for governor decided by less than 10 points, Republicans have swept them in two states (Florida and Georgia), Democrats have won them all in four states (Connecticut, North Carolina, Oregon, and Virginia), and no party has run the table in the remaining six.
In addition to South Dakota, six other states hosted a gubernatorial election with a single-digit victory margin in its most recent cycle: Iowa, Louisiana, Mississippi, Nevada, Ohio, and South Carolina.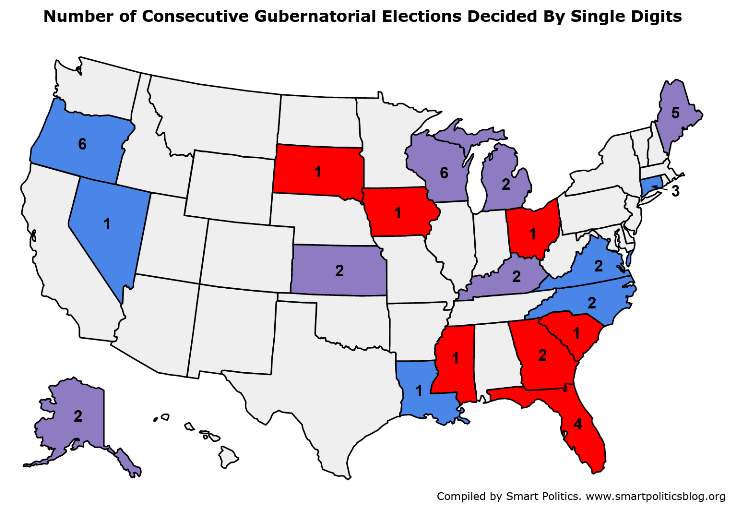 Rhode Island's six-cycle streak was broken in 2018 when Governor Gina Raimondo was reelected by 15.5 points. Minnesota's five-cycle streak was also halted when Tim Walz won an open seat race by 11.4 points.
The current six-cycle streak with single-digit victory margins in Oregon and Wisconsin do not rank in the Top 10 longest since the turn of the 20th Century trailing Delaware (11, 1932-1972), Massachusetts (10, 1928-1946), New Mexico (10, 1966-1998), Arizona (nine, 1916-1930), Kentucky (nine, 1900-1931), Nebraska (nine, 1900-1916), Wisconsin (nine, 1954-1970), Maine (seven, 1906-1918), New Mexico again (seven, 1911-1926), and Ohio (seven, 1914-1926).
Follow Smart Politics on Twitter.