Which States Are US Senate Battlegrounds?
Just 10 states have hosted U.S. Senate contests decided by single digits during its last two elections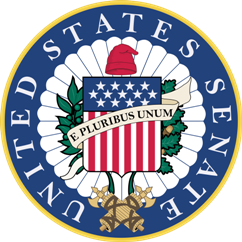 A Smart Politics report from earlier this week highlighted the 12 states across the country in which the victory margins of the last two or more gubernatorial elections were less than 10 points.
Some of those states (e.g. Alaska, Connecticut, Kansas, Oregon) have had a fairly reliable red or blue partisan tilt in recent decades.
Turning now to U.S. Senate elections, the number of states boasting two straight competitive elections gets even thinner with just 10 making the list.
Nevada and Colorado lead the way with four consecutive single-digit affairs, each dating back to 2010 with average margins of 3.6 and 4.7 points respectively.
Indiana and North Carolina are next with three each with the latter state deserving a special mention.
After incumbent Thom Tillis' 1.8-point victory over Cal Cunningham last November, the Tar Heel State has now hosted U.S. Senate races decided by single digits in a nation-leading 15 of the last 16 elections dating back to 1978. [All but Senator Richard Burr's 11.8-point win over Secretary of State Elaine Marshall in 2010].
Six states have seen their last two U.S. Senate elections decided by less than 10 points: Arizona, Florida, Georgia (both held in 2020), Michigan, Missouri, and Texas.
Eight of these 10 states all have elections on the 2022 calendar: Arizona, Colorado, Florida, Georgia, Indiana, Missouri, Nevada, and North Carolina.
Another half-dozen states hosted a U.S. Senate election with a single-digit victory margin in its most recent cycle: Iowa, Maine, Minnesota, Mississippi, New Mexico, and Ohio.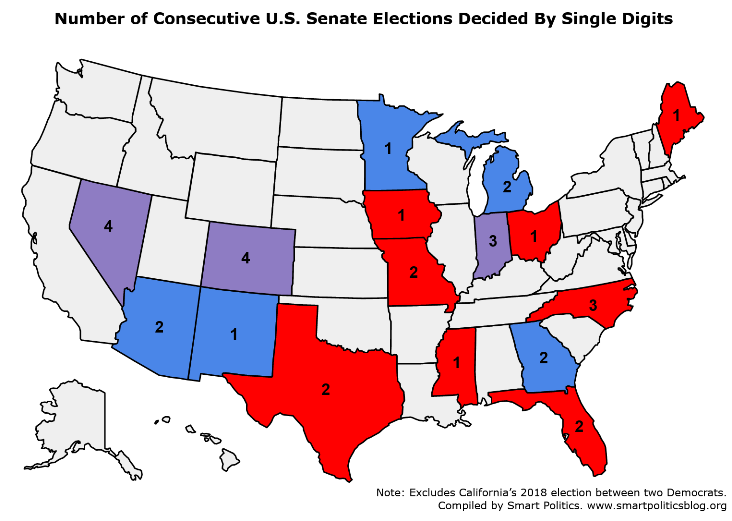 Just four states have had their last two or more U.S. Senate and gubernatorial elections decided by single digits: Florida, Georgia, Michigan, and North Carolina. [Each of these states also have done so in at least the last three presidential contests].
Since 1990, just five states have hosted U.S. Senate races that have been decided by an average victory margin of less than 10 points: North Carolina (5.7 points), Colorado (8.6), Missouri (8.8), Nevada (9.1), and Pennsylvania (9.3).
Seven states have not had a competitive U.S. Senate election by this measure for more than 30 years: Maryland (1970), Delaware (1972), Kansas (1974), Utah (1974), Oklahoma (1980), Idaho (1986), and Wyoming (1988).
Follow Smart Politics on Twitter.