Ron Kind to Retire with 10th Longest Wisconsin US House Tenure
Only four Badger State Democrats lasted longer in the chamber than Kind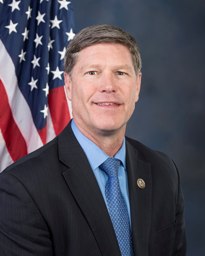 While Wisconsin U.S. Representative Ron Kind has at times been coy in recent election cycles about his political future – the question has usually revolved around whether or not he will run for higher office.
Kind's name again came up this cycle as a potential 2022 U.S. Senate candidate for what is now a very crowded Democratic field (nine candidates with one already withdrawn).
But on Tuesday the longest-serving U.S. House member of the state's congressional delegation turned heads by announcing he would retire from his seat at the end of this term.
The 3rd CD congressman is in his 13th term and currently holds the #10 spot for the longest service in the U.S. House in Wisconsin history out of the more than 185 men and women elected to the chamber since statehood.
Kind has served 24 years, 7 months, and 11 days through Thursday, August 12th – passing up Republican John Nelson (24 years, 6 months; 1906-1919, 1921-1933) to crack the Top 10 earlier this summer.
At the end of the 117th Congress, Rep. Kind will remain in 10th place at 26 years of service – two full years behind Republican John Byrnes (1945-1973) and Democrat Henry Reuss (1955-1983) who are tied for #8.
Recent GOP retiree Jim Sensenbrenner (42 years, 1979-2021) rose to the very top of the all-time Wisconsin U.S. House tenure list last fall when he eclipsed former Democratic colleague Dave Obey on October 7, 2020. Obey served 41 years, 9 months, 2 days representing northern Wisconsin from 1969-2011.
One other current Wisconsin U.S. Representative now sits in the Top 25 for all-time House service.
Democrat Gwen Moore has risen to #24 with 16 years, 7 months, and 9 days under her belt through Thursday.
The Milwaukee-based lawmaker will end this term in 23rd place, passing up Republican James Davidson (17 years, 4 months, 29 days; 1897-1913; 1917-1918) next June.
In addition to Sensenbrenner and Obey, five other Wisconsin U.S. Representatives have logged at least 30 years in the nation's lower legislative chamber: Republican Henry Cooper at 35 years, 11 months, 22 days (1893-1919, 1921-1931), Republican Tom Petri at 35 years, nine months (1979-2015), Democrat Clement Zablocki at 34 years, 11 months (1949-1983), Democrat Bob Kastenmeier at 32 years (1959-1991), and Republican Alvin O'Konski at 30 years (1943-1973).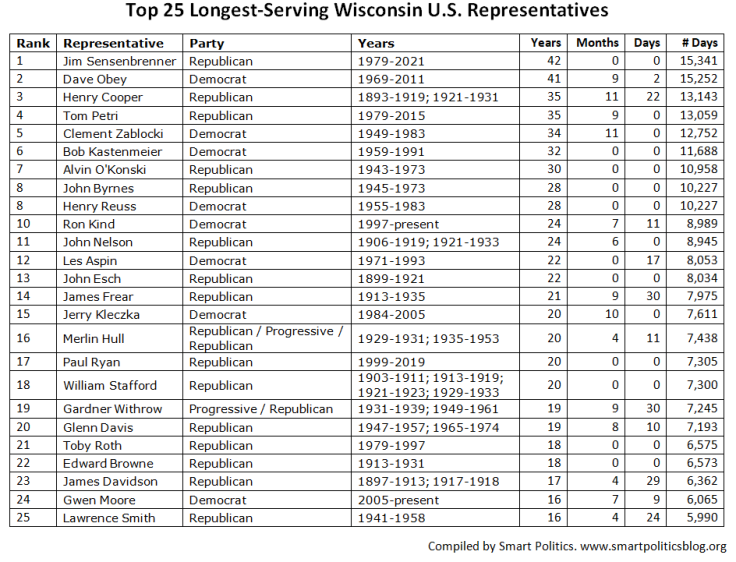 Of the state's Top 10 longest-serving members, six exited via retirement (Sensenbrenner, Obey, Petri, Byrnes, Reuss, Kind), two died in office (Cooper, Zablocki), and two were defeated in the general election (Kastenmeier, O'Konski).
Over the decades, 18 Wisconsin U.S. House members have served at least 20 full years in the chamber.
The average length of time Wisconsin's 186 U.S. Representatives have served in the U.S. House is 4.2 terms.
Wisconsin's current delegation has served an average of 4.9 terms which is the state's greenest delegation in the chamber since the 84th Congress (1954-1955, 4.6 terms).
Follow Smart Politics on Twitter.