Dean Heller Attempts Rarity With Gubernatorial Bid
Since 1900, only seven defeated U.S. Senators subsequently won the governorship of their state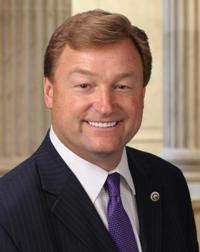 Earlier this summer, Smart Politics profiled the expected gubernatorial candidacy of Dean Heller detailing how no sitting or former Nevada U.S. Senator had ever appeared on a gubernatorial primary or general election ballot.
This week Heller officially jumped into the race for the Republican nomination.
But not only is the former lawmaker making Nevada history, he is also seeking an unusual pathway to the governor's mansion that has not been successfully traversed very often in U.S. history.
A Smart Politics review of gubernatorial election data finds that just seven U.S. Senators who exited the chamber with a loss in the 20th and 21st Centuries were later elected governor. Just six of these did so during the direct election era.
Prior to the ratification of the 17th Amendment, first-term Montana Republican U.S. Senator Joseph Dixon lost his party's nomination to state Associate Supreme Court Justice Henry Smith in September 1912.
Dixon, however, ran as the Progressive Party nominee but placed second in the voter preference ballot and lost his seat to Democratic attorney Thomas Walsh.
Eight years later, Dixon won a competitive primary for the 1920 GOP gubernatorial nomination and then easily defeated former Democratic state legislator Burton Wheeler in the general election.
In 1918, first term Georgia Democratic Senator Thomas Hardwick lost his party's nomination to Federal Trade Commissioner William Harris.
But in 1920, Hardwick won a runoff for the Democratic gubernatorial nomination against former state Attorney General Clifford Walker en route to a general election victory that November.
West Virginia Democratic U.S. Senator Matthew Neely only technically fits the qualifications of this subset of governors. Neely lost his bid for a second term to the state's Class I seat in 1928 to former Governor Henry Hatfield but then won the state's open Class II seat in 1930 and reelection to a third nonconsecutive term in 1936.
In 1940, during the midst of that term, Neely won the open gubernatorial race against Charleston Mayor Daniel Dawson.
Although Neely had lost his U.S. Senate seat 12 years prior, winning the governorship as a sitting senator does not quite fit the spirit of the Heller pathway.
The most famous U.S. Senator to lose reelection and then capture the governor's mansion is probably Arizona Democrat Ernest McFarland.
As the sitting Majority Leader of the chamber, McFarland lost his bid for a third term to Phoenix City Council Member Barry Goldwater in 1952.
The ousted legislator was then elected governor in 1954 and 1956 before losing in a rematch against Goldwater to win back his old seat in 1958.
It took more than three decades for the next defeated U.S. Senator to win a gubernatorial election.
Three-term Connecticut Republican Senator Lowell Weicker lost the 1988 general election to state Attorney General Joe Lieberman.
In 1990, Weicker ran for governor as an independent under the A Connecticut Party banner and defeated GOP Congressman John Rowland and Democratic U.S. Rep. Bruce Morrison.
The last two defeated U.S. Senators to later win governorships both lost their legislative seats during the 2006 cycle.
Two-term Rhode Island Republican Senator Lincoln Chafee was unseated by former state Attorney General Sheldon Whitehouse that November.
In 2010, Chafee emerged victorious as an independent with 36.1 percent of the vote in a seven-candidate gubernatorial field.
Likewise, two-term Ohio Republican U.S. Senator Mike DeWine lost his bid for another term in 2006 – losing by double-digits to Congressman Sherrod Brown.
In 2018, however, DeWine once again defeated Richard Cordray – the man he unseated as Attorney General in the 2010 cycle – this time in the gubernatorial race.
One other defeated senator won the governorship during the early 20th Century – although he lost his U.S. Senate race during the 19th Century.
First term Wyoming Republican U.S. Senator Joseph Carey lost his seat in 1895's legislative election to former GOP Senator Francis Warren.
In 1910, Carey won the state's gubernatorial election as a Democrat over Republican Attorney General W.E. Mullen.
Overall, 21 sitting or former U.S. Senators have been elected governor since the turn of the 20th Century (plus six others who first served as governor, then U.S. Senator, and then governor once again).
Follow Smart Politics on Twitter.