Leahy Retirement Puts End Date on US Senate Record
Leahy and his predecessor George Aiken own the mark for the longest period of time two U.S. Senators have continuously held the same seat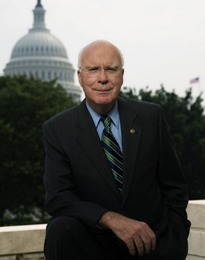 The retirement announcement by Vermont Democratic U.S. Senator Patrick Leahy this week not only opens a seat that has been held by the same lawmaker for nearly a half-century, but one that has been held uninterrupted by just two individuals for more than 80 years – a chamber record.
Leahy's predecessor, Republican George Aiken, served 33 years, 11 months, and 24 days across six terms from January 1941 until his retirement after the 1974 cycle.
Aiken and Leahy have held the seat for 80 years, 10 months, and 7 days through Wednesday. Should Leahy serve through the remainder of the 117th Congress, their record will end at 81 years, 11 months, 24 days in January 2023.
Throughout the history of the U.S. Senate, just 22 pairs of lawmakers have held the same seat back-to-back for 50 or more uninterrupted years. [Eight additional pairs have done so but with the seat being vacant for a few days to a few months due to death or resignation].
Only one other pair occupied the same seat for more than 70 years: Mississippi Democrat James Eastland (1943-1978) and Republican Thad Cochran (1978-2018) occupied the state's Class II seat for 75 years, 2 months, and 29 days.
Six other pairs reached the 60-year mark, including two that are still active:
South Carolina's Class II seat (65 years, 9 days): Democrat-turned-Republican Strom Thurmond (1956-2003) and GOPer Lindsey Graham (2003-present)
Rhode Island's Class II seat (60 years, 10 months, 13 days): Democrats Claiborne Pell (1961-1997) and Jack Reed (1997-present)
Mississippi's Class I seat (60 years, 1 month, 13 days): Democrat John Stennis (1947-1989) and Republican Trent Lott (1989-2007)
New Mexico's Class II seat (60 years): Democrat Clinton Anderson (1949-1973) and Republican Pete Domenici (1973-2009)
Rhode Island's Class II seat (60 years): Democrats Theodore Green (1937-1961) and Claiborne Pell (1961-1997)
Utah's Class I seat (60 years): Democrat Frank Moss (1959-1977) and Republican Orrin Hatch (1977-2019)
One other active streak eclipsed the 50-year mark this year and another will do so at the end of the 117th Congress.
Delaware Republican William Roth (1971-2001) and Democrat Tom Carper (2001-present) have held the Class II seat for 50 years, 10 months, and 15 days.
Meanwhile, Kentucky's Class II seat has now been held by Democrat Walter Huddleston (1973-1985) and Republican Mitch McConnell (1985-present) for the last 48 years, 10 months, and 14 days.
Each of the 22 uninterrupted streaks of two senators occupying the same seat for a period of 50 or more years have taken place since the turn of the 20th Century including 15 that bled into the 21st Century.
The first pair to notch this mark was Virginia Democrats Claude Swanson (1910-1933) and Harry Byrd, Sr. (1933-1965) who held the Class I seat for 55 years, 3 months, and 9 days.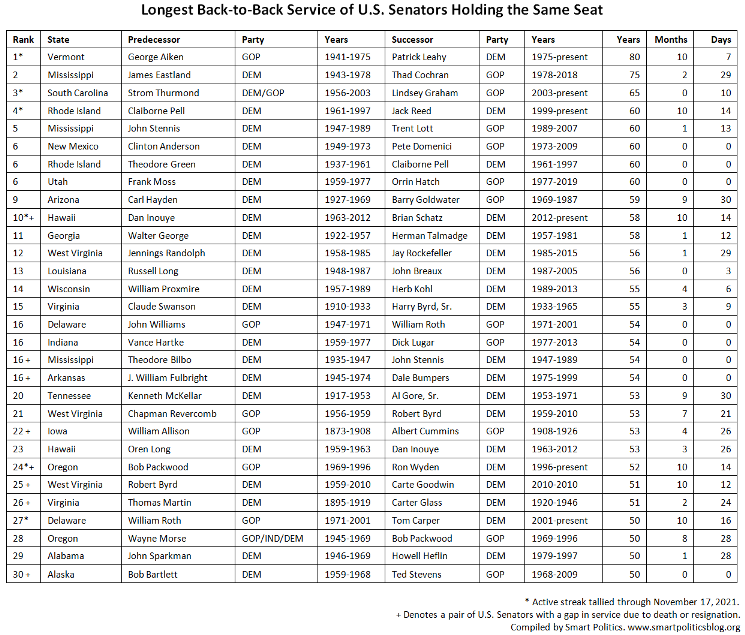 There have also been several pairs of U.S. Senators who eclipsed the 50-year mark, but their collective service was interrupted by vacancies brought about by the death or resignation of the predecessor.
Two of these involve a current member of the chamber:
Oregon Democrat Ron Wyden's predecessor, Republican Bob Packwood, took office 52 years, 10 months, and 14 days ago, but the special election to fill Packwood's Class III seat after his resignation in early October 1995 was not conducted until the end of January 1996.
Hawaii Democrats Dan Inouye (1963-2012) and Brian Schatz (2012-present) have held the state's Class III seat for 58 years, 10 months, and 14 days but the seat was vacant for one and one-half weeks prior to Schatz's appointment in December 2012
One pair interrupted by a vacancy dates back to the 19th Century: the 53+ year cumulative service between Iowa Republicans William Allison (1873-1908) and Albert Cummins (1908-1926) was separated by a vacancy of three and a half months following Allison's death.
Follow Smart Politics on Twitter.