Tommy Thompson and a Review of Governors Serving Interrupted Terms
Thompson would not only be the oldest Wisconsin governor to take office but also do so with the sixth largest gap in service for the office in U.S. history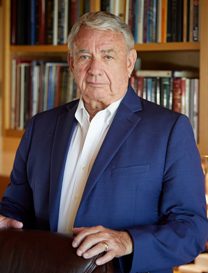 Earlier this week, former four-term Wisconsin Governor Tommy Thompson stated that he had not ruled out running for the state's highest elected office once again this year.
Thompson's last campaign was at the age of 70 when he was the GOP nominee for an open U.S. Senate seat won by U.S. Representative Tammy Baldwin.
Thompson officially launched that campaign on December 1, 2011 but said he won't make a final decision to enter the 2022 gubernatorial race until April of this year – just four months before the primary – at the age of 80.
First-term Governor Tony Evers faces his own challenges. As previously reported by Smart Politics, Wisconsin Democrats have lost a staggering 32 of the last 33 elections for governor when a Democrat resides in the White House dating back to 1855, and President Joe Biden's approval rating is currently not doing any favors for Democratic incumbents running for reelection this year.
Should Governor Thompson run for a fifth term, he'd first have to dispatch with former GOP Lieutenant Governor Rebecca Kleefisch in the early August primary.
If he manages that feat and subsequently defeats Evers in November, Thompson would become the oldest Wisconsinite to take the office in history, the second to serve nonconsecutive terms, and – perhaps most noteworthy – own one of the largest gaps in gubernatorial service in the nation's history.
A victorious Thompson would take office on January 2, 2023, or 21 years, 11 months, 1 day since he left office in February 2001 when he was appointed Secretary of Health and Human Services in the George W. Bush administration.
That would be the sixth largest gap in service between nonconsecutive terms for United States governors with three of the Top Five occurring within the last 30 years.
West Virginia Republican Cecil Underwood leads the way with the largest time between terms at 35 years, 11 months, and 28 days.
After Underwood left office in 1961, he made several attempts to win back his old seat – losing the general election of 1964, the GOP primary of 1968, and the 1976 general election before finally defeating former Democratic state legislator Charlotte Pritt in 1996's open seat race nearly three-dozen years after holding the governorship.
The remaining four governors are:
Kentucky Democrat James McCreary: McCreary won his first four-year term in 1875 and saw 32 years, 3 months, and 10 days pass between exiting the seat in 1879 and taking office after winning the Election of 1911. In the interim, he served six terms in the U.S. House (1885-1897) and one term in the U.S. Senate (1903-1909).
California Democrat Jerry Brown: Brown took office for his third term in 2011 – exactly 28 years after he left office following his second term in 1983.
New Jersey Republican Walter Edge: Edge's first three-year term was cut a bit short in 1919 after winning the 1918 U.S. Senate election. Edge resigned in May 1919 but would return to his gubernatorial seat for a second three-year term in 1944 following his double-digit victory in November 1943 – a gap of 24 years, 8 months, and 3 days.
Alaska Republican Wally Hickel: Hickel left office before the end of his first term in January 1969 after being appointed Secretary of the Interior under Richard Nixon. Hickel was out of office for 21 years, 10 months, and 4 days until his 1990 open seat victory as the Alaska Independence Party nominee. Hickel had losing gubernatorial bids three times during that two-decade plus span in 1974, 1978, and 1986.
Only one other governor logged 20+ years between gubernatorial terms: Oklahoma Republican Henry Bellmon (1963-1967, 1987-1991) recorded 20 years and four days between his first and second terms.
Overall, more than 140 governors have served interrupted terms in U.S. history.
The only Wisconsin governor to do so thus far is Philip La Follette. La Follette had a two-year pause out of office between losing his 1932 bid for a second term as a Republican to Democrat Albert Schmedeman and then defeating Schmedeman as the Progressive nominee in 1934.
The oldest Wisconsinite to serve as governor is Republican Walter Goodland. Goodland was 80 years and 13 days old when he took office in January 1943 following the post-1942 election death of Progressive gubernatorial victor Orland Loomis. [Note: Goodland was the sitting lieutenant governor and had been reelected to a second term that cycle].
Thompson would be 81 years, 1 month, and 14 days old should he be sworn into office in January 2023.
Goodland served as governor until his death at 84 years, 2 months, and 18 days at the beginning of his third term in March 1947.
Follow Smart Politics on Twitter.