Dr. Oz Seeks to Make History in US Senate Bid
If elected, the famous physician would own the shortest surname in the history of the legislative body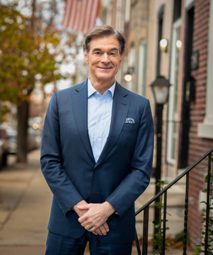 Donald Trump's endorsement of Dr. Oz in Pennsylvania's U.S. Senate race this week adds a new wrinkle in the competitive fight for the Republican nomination that will be decided in just over a month.
With more than a half-dozen candidates slated to appear on the GOP ballot and as many as four or five possibly receiving double-digit support, candidates in the crowded field are looking for ways to stand out.
If Dr. Oz does move forward to the general election and then defeats the eventual Democratic nominee (in what is also expected to be a very close race), he would enter the U.S. Senate with a history-making victory.
At two characters, Dr. Oz would enter the chamber with the shortest surname of the approximately 2,000 members to be sworn into the office.
To date there have been 14 individuals appointed or elected to the U.S. Senate with surnames of three characters.
Two were elected to the 1st Congress: Anti-Administration southerners William Few (1789-1793) of Georgia and Richard Lee (1789-1792) of Virginia.
"Lee" is the most common surname among this group of 14 which includes Maryland Democrat Blair Lee (1914-1917), Oklahoma Democrat Joshua Lee (1937-1943), and current Utah Republican Mike Lee (2011-present).
Tennessee Democrat Luke Lea (1911-1917) could also make a case to be added to that club.
Three other U.S. Senators with three-character surnames entered the chamber during the 19th Century: New York Democrat John Dix (1845-1849), Nevada Republican James Nye (1864-1873), and Tennessee Democrat David Key (1875-1877).
Joining the Lees (and Lea) in the 20th Century are Indiana Republican Harry New (1917-1923), Louisiana Democrat Edward Gay (1918-1921), North Dakota Republican Gerald Nye (1925-1945), Missouri Republican James Kem (1945-1953), and Arizona Republican Jon Kyl (1995-2013; 2018).
As Smart Politics documented more than a decade ago, Kyl holds the all-time mark for the shortest legal first and last name in U.S. Senate history at just six characters.
Mehmet Oz trails Kyl by two characters to tie that record.
Prior to Kyl and Mike Lee, one defining characteristic of the prior dozen U.S. Senators with these very short three-character surnames was also their short service: only one of the 12, Gerald Nye, served at least 10 years.
It should be noted that long surnames don't necessarily guarantee a great legacy in the chamber – Washington's Lewis Schwellenbach (1935-1940) and his 13-characters do not receive much mention these days, despite his subsequent judgeship and cabinet appointments.
Follow Smart Politics on Twitter.