Will the DFL's Half-Century Long Attorney General Winning Streak End in 2022?
Keith Ellison's 2018 victory was the worst performance by a DFL attorney general nominee vis-à-vis the party's gubernatorial nominee in the history of the party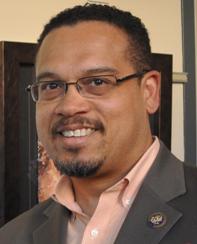 One claim to fame of Minnesota Democrats is that they own the longest state winning streak in presidential elections (and longest in party history outside of the South) dating back 12 cycles to 1976.
The DFL also holds a slightly longer statewide streak – that for the office of Attorney General – for which Democrats have been victorious in 13 straight cycles since 1970.
However, that winning streak nearly came to an end in 2018, even with measurable national Democratic tailwinds.
U.S. Representative Keith Ellison (pictured) defeated former State Representative Doug Wardlow by just 3.9 points in 2018's open seat race – running 7.5 points behind Tim Walz (who won by 11.4 points) at the top of the ticket. [Secretary of State Steven Simon ran 2.8 points behind Walz and Julie Blaha 5.3 points behind in the election for state Auditor].
Ellison's victory was also the narrowest victory by a DFL nominee for Attorney General since Minneapolis attorney Warren Spannaus flipped the seat in 1970 with a 2.7-point win against attorney and former state GOP chair Robert Forsythe.
Over the next 11 cycles from 1974 through 2014, DFLers won the office by an average of 21.1 points with only one of those by less than double-digits (Mike Hatch's 4.0 point open seat victory in 1998 over State Representative Charlie Weaver).
Ellison has an incumbency advantage in 2022, but is arguably facing a stronger GOP opponent in attorney Jim Schultz and an unknown GOP headwind.
Moreover, the 7.5 points Ellison ran behind Walz in 2018 is the worst showing by a DFL Attorney General nominee vis-à-vis their nominee for governor in the history of the party (comparing the DFL margin of victory/loss for each respective office each cycle since the merger in 1944).
From 1978 through 2014, the DFL AG nominee ran ahead of their gubernatorial nominee in each cycle, and by an average of 22.0 points.
The previous low water mark for such a DFL nominee came in 1952 when former State Representative Allan Johnson lost to Republican Attorney General J.A.A. Burnquist by 17.2 points while Minneapolis Attorney and former DFL chair Orville Freeman lost to Governor C. Elmer Anderson by 11.3 points. Johnson ran 5.9 points behind Freeman.
KSTP/SurveyUSA's early September polling of Minnesota's statewide races found Governor Walz up 18 points on GOP nominee Scott Jesnsen with Ellison polling just a six-point advantage over Schultz.
It should be noted that the 13-cycle Attorney General winning streak for Minnesota Democrats is tied with Massachusetts for the fourth longest active streak for the party across the country.
North Carolina Democrats have won 31 consecutive elections to the office since 1900, followed by Maryland at 25 in a row since 1923, and Connecticut with 16 consecutive victories since 1958.
Iowa Democrats are also in double-digits at 11 in a row with Tom Miller single-handedly winning 10 of those contests since 1978 (and going for an 11th this November).
North Carolina doesn't hold its next election for the office until 2024 with Democrats attempting to hold open seats in Maryland (with U.S. Rep. and former Lieutenant Governor Michael Brown) and Massachusetts (with former Boston City Councilor Andrea Campbell).
Follow Smart Politics on Twitter.