A Look Behind Indiana's 2024 GOP US Senate Primary
Mike Braun's exit from the U.S. Senate and planned pathway to the governorship are unusual in Indiana politics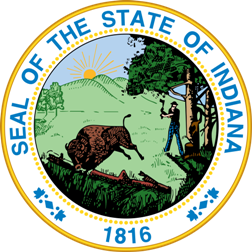 Indiana has received a fair share of early 2024 election buzz with Republican U.S. Senator Mike Braun announcing he would not run for a second term and several big names subsequently campaigning for or expressing interest in his fairly safe GOP seat.
U.S. Representative Jim Banks launched his campaign earlier this week while delegation colleague Victoria Spartz as well as sitting Governor Eric Holcomb and former Governor Mitch Daniels are all reportedly eying bids.
Braun's exit from the chamber after just one term is fairly unusual – as is his attempted pathway to win the governorship, the office for which he is now running in 2024.
Two years ago, Smart Politics documented the very limited number of cases of sitting or former U.S. Senators who have gone on to win gubernatorial elections since the turn of the 20th Century (less than two-dozen). Overall, governors-turned-U.S. Senators outnumber U.S. Senators-turned-governors by more than 7:1 since 1900.
Braun is also just the third Indiana U.S. Senator in the direct election era to decline to run for a second term in the chamber.
In January 1944, former Democratic Attorney General Samuel Jackson was appointed to the U.S. Senate by Governor Henry Schricker following the death of Democratic Senator Frederick Van Nuys.
Jackson did not run in the 1944 special or general elections to keep his seat and instead ran for governor that November. He was defeated by Republican attorney Ralph Gates by 2.8 points.
Two years later, in 1946, first-term Republican Senator Raymond Willis retired from public office and returned to operating his printing business.
Every other U.S. Senator from Indiana prior to Braun sought to hold onto their seat when their first term expired.
[Note: In 2016, Republican Dan Coats did not run for reelection for what would be a fourth nonconsecutive term. He had already served two terms in the chamber from 1988 to 1999].
The remaining 17 first-term Indiana U.S. Senators who ran for another term in the direct election era are:
1916: Democrat John Kern (lost general)
1916 (special): Democrat Thomas Taggart (lost special)
1920: Republican James Watson (elected)
1922: Republican Harry New (lost primary)
1926 (special): Republican Arthur Robinson (elected)
1938: Democrat Frederick Van Nuys (elected)
1940: Democrat Sherman Minton (lost general)
1950: Republican Homer Capehart (elected)
1952: Republican William Jenner (elected)
1964: Democrat Vance Hartke (elected)
1968: Democrat Birch Bayh (elected)
1982: Republican Dick Lugar (elected)
1986: Republican Dan Quayle (elected)
1990 (special): Republican Dan Coats (elected)
2004: Democrat Evan Bayh (elected)
2018: Democrat Joe Donnelly (lost general)
2022: Republican Todd Young (elected)
No sitting or former Indiana U.S. Senator has won a gubernatorial election since 1900.
Indiana's primary will be held in May 2024.
Follow Smart Politics on Twitter.