Southern States Poised to Have Fewest Democratic Governors Since Reconstruction
The party has never held fewer than two governorships in the South outside of the Civil War and Reconstruction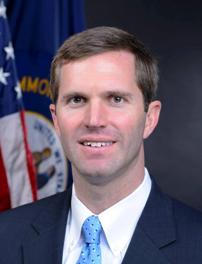 Campaigns for three southern state gubernatorial seats are well under way this cycle, with Kentucky holding its primary on May 16th, Mississippi doing so on August 8th, and Louisiana's jungle primary to be conducted on October 14th.
Democrats are optimistic that Kentucky Governor Andy Beshear's (pictured) popularity will carry him against whichever candidate emerges from the record Republican primary field, despite the state taking a strong turn toward the GOP over the last two decades.
However, the depleted Democratic bench in Louisiana (where Governor John Bel Edwards is term-limited) and Mississippi (where Republican Tate Reeves is seeking a second term) makes it more likely than not the GOP will carry these other two states without much difficulty.
Democrats are thus likely to begin 2024 with at most two gubernatorial seats in the South – North Carolina (for Roy Cooper's last year of office) and possibly Kentucky.
[Note: The South is defined in this report as the 14-state region of Alabama, Arkansas, Florida, Georgia, Kentucky, Louisiana, Mississippi, North Carolina, Oklahoma, South Carolina, Tennessee, Texas, Virginia, and West Virginia. U.S. Census Southern-designated states of Delaware and Maryland are excluded and considered part of the Northeast].
If Democrats fall short of three seats come next January, it will mark the first time since mid-Reconstruction that the party has not held more than two gubernatorial seats in the South.
The first time Democrats dipped below four seats in the region following Reconstruction was in 2013 when the party controlled only Arkansas (Mike Beebe), Kentucky (Steve Beshear), and West Virginia (Earl Ray Tomblin).
The party added a fourth seat in 2014 after the election of Terry McAuliffe in Virginia but dropped back to three in 2015 when Republican Asa Hutchinson won Arkansas' open-seat contest.
Democrats remained at three seats in 2016 after losing Kentucky's open seat to Matt Bevin but picked up Louisiana with Bel Edwards.
In 2017, the Democratic tally rose again to four seats with Cooper's election in North Carolina, but newly minted West Virginia Governor Jim Justice switched parties in August of that year bringing the number back down to three.
It remained at three until 2020 with Andy Beshear's win adding a fourth state, but again dropped back to three in 2022 after Republican Glenn Youngkin won Virginia.
Between 1877 and 1968, Democrats controlled at least 10 southern governorships, holding an average of 92.4 percent of the seats each year during this 90+ year period.
From 1969 through 1994 – the last year the number of Democratic governorships in the South was in double-digits – the party held 72.1 percent of gubernatorial seats. Democrats controlled 11 states going into the 1994 midterms: Alabama, Arkansas, Florida, Georgia, Kentucky, Louisiana, North Carolina, Oklahoma, Tennessee, Texas, and West Virginia.
Since the Republican Revolution, Democrats have held an average of only 35.1 percent of governorships in the region.
Aside from select years during the Civil War and Reconstruction, the Democratic Party has held at least two gubernatorial seats in the South since the founding of the party during Andrew Jackson's presidency.
Losses in Louisiana and Kentucky in 2023 would thus set a new low water mark for Democrats in what continues to be an increasingly challenging region for the party.
Follow Smart Politics on Twitter.