Tim Scott and Presidential Candidates with Two First Names
Three candidates with two 'first names' have been elected to the White House over the last half-century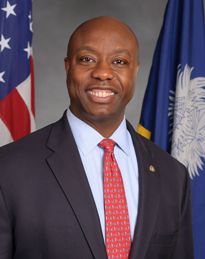 South Carolina Republican U.S. Senator Tim Scott is poised to officially launch his presidential campaign on May 22nd – which happens to coincide with the exact average number of days out from the general election non-incumbent nominees have gotten into the race since 1972 (533 days).
Scott also joins a fairly long list of major party presidential candidates who have launched bids over the past half-century…with two first names.
Smart Politics examined Social Security Administration yearly birth name data over the last six decades and found that nearly three-dozen candidates since 1972 had first and last names that each appeared on the list of the Top 1000 most common baby names at the time of their presidential candidacy.
While 'Tim' technically dropped off the list in 1985, 'Timothy' – Senator Scott's birth name – ranks 203rd for male births for the year 2022 (the most recent year data is available). 'Scott,' meanwhile, ranked 588th.
During the last half-century, three candidates with first and last names appearing on this list actually won the presidency – Jimmy Carter in 1976, Ronald Reagan in 1980, and Bill Clinton in 1992.
'Jimmy' was the 101st most common boys name in 1976 (and his birth name 'James' was #5) while 'Carter' was #651.
In 1980, 'Ronald' ranked #58 for boys while 'Reagan' was 931st – although for girl births.
Oddly, after Reagan's election, his surname would fall off the SSA's Top 1000 baby names list for more than a decade. It returned in 1993 and remains on the list today (peaking at #97 for girl births in 2012 and 2016).
'Reagan' would also make a two-decade appearance on the list for names of boys from 1996 through 2017.
In 1992, 'Bill' was #900 (with birth name 'William' at #20) and 'Clinton' was #211.
It should be noted that in addition to Reagan, presidential candidates with two first names whose surname appeared on the SSA's baby name list for the opposite gender are: Democrats John Lindsay (1972), Hillary Clinton (2008), John Delaney (2020), Elizabeth Warren (2020), and current 2024 hopeful Robert Kennedy, Jr. [Note: 'Clinton' fell off the boys name list in 2015].
'Kennedy' has consistently been a Top 100 name for girl births since 2011, but fell off the list entirely for boys in 2006.
Meanwhile, the first name of Lindsey Graham (2016), remained a Top 1000 girls name through 2019 but fell off the boys list after 1987.
In total, more than 30 presidential candidates since 1972 had first and last names appearing on the SSA's Top 1000 baby name list during their campaign:
1972: Democrats Terry Sanford, Fred Harris, Scoop (Henry) Jackson, George Wallace, and John Lindsay
1976: Democrat Jimmy Carter
1980: Republican Ronald Reagan
1984: Democrats John Glenn and Jesse Jackson
1988: Democrat Paul Simon
1992: Democrat Bill Clinton
1996: Republicans Lamar Alexander, Morry (Maurice) Taylor, and Pete Wilson
2000: Democrat Bill (William) Bradley
2004: Democrats Bob Graham, Howard Dean, Wesley Clark, and John Kerry
2008: Republicans Duncan Hunter and Ron Paul and Democrat Hillary Clinton
2016: Republicans Ben Carson, Scott Walker, Ted Cruz, and Lindsey Graham
2020: Democrats Tim Ryan, John Delaney, and Elizabeth Warren
2024: Republican Tim Scott and Democrat Robert Kennedy, Jr.
More than a dozen other candidates once had a surname that was previously used as a first name, but no longer made the SSA's list during the year of their campaign:
1976: Republican Gerald Ford and Democrats Jerry Brown and Robert Byrd
1980: Democrat Ted Kennedy and Republican-turned-independent John Anderson
2000: Republican Bob Smith
2012: Republicans Rick Perry and (eventual Libertarian nominee) Gary Johnson
2016: Republican Chris Christie and Democrats Bernie Sanders and Jim Webb
2020: Democrat Cory Booker and Republican Mark Sanford
2024: Republican Larry Elder
Three candidates later saw their last name appear on the SSA's list of first names years after their candidacy:
1972: Republican Richard Nixon (with 'Nixon' first appearing in 2011)
1980: Republican Howard Baker (2018)
1992: Democrat Douglas Wilder (2015)
Five other candidates had last names that appeared on the list at the time of their campaign, but their first name did not: Republican Herman Cain in 2012, Republican Rand Paul in 2016, Democrats Deval Patrick and Kamala Harris in 2020, and Nikki Haley in 2024.
Follow Smart Politics on Twitter.