Will Tammy Baldwin Draw an A-List GOP Challenger in 2024?
Incumbent Badger State Democratic U.S. Senators have been unseated three times – each during GOP wave cycles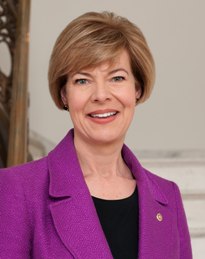 There is still plenty of time for candidates to jump into Wisconsin's 2024 U.S. Senate race. However, early Republican attempts to draw top recruits such as U.S. Representatives Bryan Steil and Mike Gallagher were not successful and so the party will look elsewhere for a top-tier candidate to take on two-term Democratic incumbent Tammy Baldwin.
As of yet, the allure of an expected very competitive presidential race at the top of the ticket in Wisconsin has yet to persuade any Republican to take the plunge.
To be sure, some GOP candidate will eventually file paperwork, no matter what the odds look like of unseating Baldwin.
Republicans have fielded a nominee in each of the 40 general and special elections for the office since 1914.
But Baldwin's reelection prospects look strong. Wisconsin Democratic U.S. Senators have won 13 of 16 reelection bids during the direct election era – falling short during only three Republican wave elections:
1938 (eight-seat GOP gain): One-term Senator F. Ryan Duffy placed third with 24.7 percent behind winner Alexander Wiley and Progressive Herman Ekern
1980 (12-seat GOP gain): Three-term Senator Gaylord Nelson lost to former U.S. Representative Bob Kasten by 1.9 points
2010 (six-seat GOP gain): Three-term Senator Russ Feingold was unseated by 4.8 points by Ron Johnson
Republicans have never won a U.S. Senate seat in Wisconsin during a presidential election cycle in which the Democratic White House nominee carried the state – losing races for both offices in 1932, 1964, 1976, 1988, 1992, 2000, 2004, and 2012.
The Wisconsin GOP has plenty of company in this regard: 18 states have never simultaneously elected a Republican U.S. Senator while backing a Democratic presidential nominee.
Wisconsin, however, ranks near the very bottom in split ticket voting for these two offices.
In fact, Wisconsin has split its presidential and U.S. Senate vote between Republican and Democratic nominees just once in 18 cycles since 1916.
In 1968, Richard Nixon eked out a 3.6-point victory in Wisconsin over Vice President Hubert Humphrey while Gaylord Nelson cruised to a 23.4-point win against GOP State Senator and former Milwaukee Assemblyman Jerris Leonard.
[Note: Additionally, in 1940, Wisconsinites also reelected Progressive U.S. Senator Robert La Follette, Jr. and backed Democrat Franklin Roosevelt for a third consecutive cycle].
There are several well-known Republicans still considering a campaign for the U.S. Senate in 2024 against Baldwin, including former Milwaukee County Sheriff David Clark and U.S. Representative Tom Tiffany.
It is not likely, but it is possible, that whoever enters the GOP race will have a clear path to the nomination.
Since 1914, Republicans have held uncontested primaries nine times out of 40 U.S. Senate elections including six cycles with Democratic incumbents:
1958: Former State Supreme Court Justice Roland Steinle
1964: Sun Prairie agricultural businessman Wilbur Renk
1970: Former Milwaukee Bucks General Manager John Erickson
1976: Former River Falls State Assemblyman and State Energy Director Stanley York
1998: U.S. Representative Mark Neumann
2006: Bear Creek attorney Robert Lorge
Baldwin is the only woman to serve in the U.S. Senate in Wisconsin history and in 2018 the state hosted its first general election between two women major party U.S. Senate nominees, with State Senator Leah Vukmir winning the Republican nomination.
Follow Smart Politics on Twitter.