Kentucky Democrats Holding Onto Governorship with Both Hands
Despite becoming deep red down the ballot, Kentucky remains one of just three states where Democratic gubernatorial nominees have won at least 40 percent in every election since 1900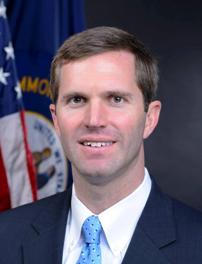 Despite the party facing GOP supermajorities in both state legislative chambers, losing all but one seat in the state's congressional delegation, and losing the remaining five statewide governmental offices, Kentucky Democrats nonetheless seem favored to hold the offices of Governor (Andy Beshear, pictured) and Lieutenant Governor (Jacqueline Coleman) next month.
The Democratic stronghold in southern states has long since vanished, but the occasional 'good-fit' gubernatorial candidate can still emerge victorious even in these deep red states, particularly when opposed by controversial or weak Republican opponents (e.g. John Bel Edwards vs. David Vitter in Louisiana in 2015).
But one aspect that is unique about Kentucky's electoral history, unlike that of most of its neighbors, is how its floor of support for governor has never been completely pulled out from beneath the feet of the Democratic Party.
In fact, Kentucky is one of only three states in which Democrats have won at least 40 percent of the vote in every gubernatorial election held since the turn of the 20th Century.
The lowest percentage of the vote won by a Kentucky Democrat over the last 120+ years came in 2015 when sitting Attorney General Jack Conway received 43.8 percent against investment firm executive Matt Bevin.
That is the highest low-water mark in elections for governor for the Democratic Party in any state since the Civil War.
[In 1863, Kentucky U.S. Representative Charles Wickliffe won just 20.4 percent of the gubernatorial vote against U.S. District Attorney of Kentucky and Union nominee Thomas Bramlette].
The Democrat Party has yet to dip below the 40 percent mark in just two other states since 1900 – Maryland and North Carolina.
The lowest support Democrats have received for governor in Maryland came in 1966's open seat race in which Baltimore contractor (and perennial candidate) George Mahoney won 40.6 percent against Republican Baltimore County Executive Spiro Agnew.
Democrats have notched at least 40 percent in every election in the Old Line State since 1861 – when the party did not field a nominee against Unionist Augustus Bradford and States Rights candidate Benjamin Howard.
The lowest support notched by a Democratic gubernatorial nominee in North Carolina since 1900 was the 43.2 percent won by Lieutenant Governor Walter Dalton in 2012 against former Charlotte Mayor Pat McCrory.
Democrats last failed to win 40 percent in the Tar Heel State during Reconstruction in 1872 when the only nominees for the office were Republican incumbent Tod Caldwell and Conservative nominee (and future state Supreme Court Justice) Augustus Merrimon.
It should be noted that Virginia Democrats have also won at least 40 percent every time they fielded a nominee since 1900, but the party failed to do so in 1973 when GOPer Mills Godwin (a former Democratic governor) defeated ex-Democratic State Senator Henry Howell who ran as an independent.
Democrats have come up short of the 40 percent mark in all but 11 of the remaining states in at least one cycle during the 21st Century: excepting Washington (1924), Oregon (1982), Delaware (1988), Missouri (1988), South Carolina (1990), Illinois (1994), New Mexico (1994), Montana (1996), Arizona (1998), Pennsylvania (1998), and Wisconsin (1998).
Charlie Crist's disastrous gubernatorial candidacy in Florida (39.97 percent) marked the first time that state's Democratic nominee did not reach 40 percent since 1916 (when Prohibitionist Sidney Catts was elected).
As a border state not in the 'deep South,' Kentucky Democrats never quite enjoyed the consistent blow-out victories of many of its southern neighbors.
Since 1900, Democrats captured 60+ percent of the vote just six times across 31 cycles and have averaged a fairly modest 53.8 percent en route to 24 victories.
But the electoral whiplash, at least in elections for governor, has not been as pronounced: by contrast, Democratic nominees for governor since 2000 have bottomed out at 22.8 percent in Tennessee (2014), 28.2 percent in Louisiana (2011, tallying all Democratic candidates in the jungle primary), 29.2 percent in Alabama (2022), 29.8 percent in Texas (2006), 30.2 percent in West Virginia (2020), 31.8 percent in Arkansas (2018), 32.3 percent in Mississippi (2015), 38.2 percent in Georgia (2006), 39.6 percent in Oklahoma (2010), 39.9 percent in Florida (2022), and 40.7 percent in South Carolina (2022).
Follow Smart Politics on X/Twitter.