The Biggest Partisan Presidential Blowouts In All 50 States
Will any state Democratic or Republican records fall in the 2020 cycle?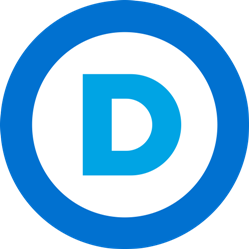 As Election Day approaches, it is expected that many states will be decided by single digits in the race for president. [A recent Smart Politics report highlighted the closest elections in all 50 states].
But as some states become more competitive with changing demographics and partisan affiliation, others become less so.
In 2016, three states set party records for the largest victory margin in a presidential election for a Republican nominee.
In Wyoming, Donald Trump defeated Hillary Clinton by 46.3 points. That was the biggest GOP blowout in the state since Ronald Reagan's 42.3-point win over Walter Mondale in 1984.
Trump also famously scored the best showing for his party in West Virginia with a 41.7-point win over Clinton.
That bested Abraham Lincoln's 36.5-point win against George McClellan in 1864 in the state's first election for the office since statehood.
Another Appalachian state, Kentucky, also saw Trump run up the score in record fashion with a 29.8-point win last cycle. That was slightly better than Richard Nixon's 28.6-point triumph over George McGovern in 1972.
Meanwhile, Democrats turned in their best showing in the District of Columbia with Clinton racking up an 86.8-point victory. Barack Obama held the previous mark with an 85.9-point win over John McCain in 2008.
Prior to 2016, it had been 32 years since a Republican nominee last set a state record in a presidential race with Reagan holding four from 1984 that still remain: Alaska (36.8 points), Arizona (33.9), Idaho (46.0), and Nebraska (41.7).
Reagan also holds the GOP records in Nevada (35.6 points) and Utah (52.2) set during his successful 1980 run against President Jimmy Carter.
The largest number of Republican state records were set during Nixon's 1972 rout of McGovern with more than a dozen still standing today: Alabama (46.9 points), Arkansas (38.1), Florida (44.1), Georgia (50.4), Hawaii (25.0), Indiana (32.8), Louisiana (37.0), Maryland (23.9), New Mexico (24.5), North Carolina (40.6), Oklahoma (49.7), Tennessee (38.0), Texas (33.0), and Virginia (37.7).
Meanwhile, seven Republican state records are still on the books from the 19th Century:
1864 (Lincoln over McClellan): Kansas (61.4 points), Massachusetts (44.5), Missouri (39.4)
1872 (Ulysses Grant over Horace Greeley): Rhode Island (43.9), South Carolina (52.0)
1896 (William McKinley over William Jennings Bryan): New Hampshire (42.8), Vermont (63.4)
Twenty other state records were set during the 20th Century prior to Nixon's 1972 win:
1904 (Teddy Roosevelt over Alton Parker): Minnesota (55.1 points), Oregon (47.6), South Dakota (49.4), Washington (50.6)
1920 (Warren Harding over James Cox): California (41.9), Illinois (42.3), Iowa (45.4), Montana (29.1), New Jersey (39.2), New York (37.6), North Dakota (59.6), Wisconsin (54.9)
1924 (Calvin Coolidge over John Davis): Colorado (35.0 – over Robert LaFollette), Connecticut (34.0), Maine (50.2), Michigan (62.2), Ohio (34.6), Pennsylvania (46.3)
1928 (Herbert Hoover over Al Smith): Delaware (30.4)
1964 (Barry Goldwater over Lyndon Johnson): Mississippi (74.3)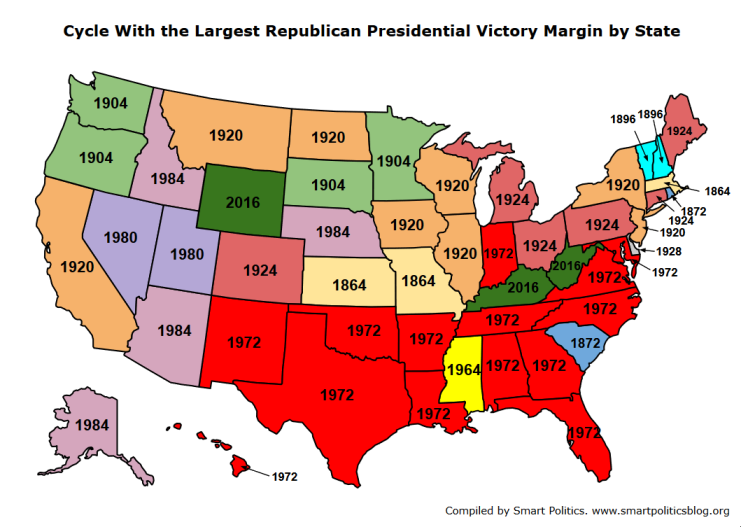 On the Democratic side, Lyndon Johnson still holds a dozen state records from his 1964 landslide win over Goldwater: Alaska (31.2 points), Connecticut (35.7), Hawaii (57.5), Iowa (24.0), Maine (37.7), Massachusetts (52.7), Michigan (33.6), New Jersey (31.8), New York (37.3), Ohio (25.9), Rhode Island (61.7), and West Virginia (35.9).
Johnson set two other records in Delaware (22.2 points) and Vermont (32.6 points) but those marks were broken by Barack Obama against John McCain in 2008.
Obama beat McCain by 25.0 points in Delaware and by 37.0 points in Vermont.
Franklin Roosevelt holds the largest number of Democratic state records with 17 set en route to his first two terms in office:
1932 (Roosevelt over Hoover): Arkansas (73.1 points), Kansas (9.4), Louisiana (85.8), Nebraska (27.7), New Mexico (27.0), North Dakota (41.6), Oklahoma (46.6), South Dakota (29.2), Texas (76.7)
1936 (Roosevelt over Alf Landon): Arizona (42.9), California (35.3), Minnesota (30.8), Oregon (34.8), South Carolina (97.2), Washington (36.5), Wisconsin (33.5), Wyoming (23.1)
Nineteen Democratic state records remain from the 19th Century:
1828 (Andrew Jackson over John Quincy Adams): Pennsylvania (33.3 points)
1832 (Jackson over Henry Clay): Alabama (99.9), Georgia (100.0), Illinois (36.6), Indiana (34.2), Mississippi (100.0), Missouri (100.0), North Carolina (69.5), Tennessee (90.8), Virginia (49.9)
1836 (Martin Van Buren over William Henry Harrison): New Hampshire (50.0)
1868 (Horatio Seymour over Ulysses Grant): Kentucky (49.1), Maryland (34.4)
1892 (Grover Cleveland over Benjamin Harrison): Florida (71.4)
1896 (Bryan over McKinley): Colorado (71.1), Idaho (56.8), Montana (60.2), Nevada (62.4), Utah (65.4)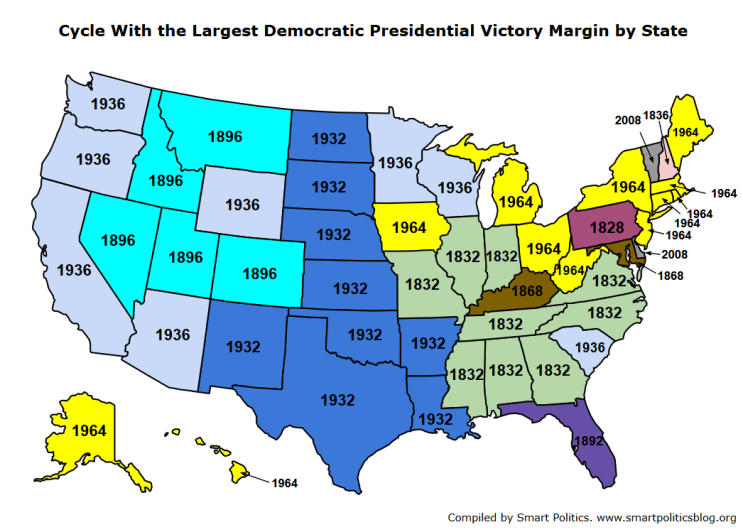 Overall, Franklin Roosevelt holds the largest number of state records among Democratic and Republican nominees with 17, followed by Nixon (14), LBJ (12), Jackson (10), Harding (eight), Coolidge (six), Reagan (six), Bryan (five), Teddy Roosevelt (four), Lincoln (three), Trump (three), Grant (two), Greeley (two), McKinley (two), Obama (two), Cleveland (one), Goldwater (one), Hoover (one), and Van Buren (one). [Plus Hillary Clinton with one for D.C.].
Follow Smart Politics on Twitter.