The Largest Active Democratic Statewide Winning Streaks
Just seven states split their ticket during the 2020 cycle in statewide races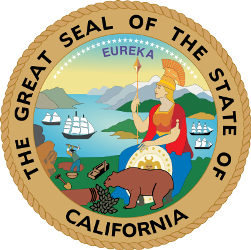 Following up on a report from earlier this week in which Smart Politics documented the biggest Republican winning streaks in statewide elections, this report details the largest streaks on the Democratic side.
Through the 2020 cycle, Democrats have won the most recent statewide election(s) in 18 states, including two states hosting races next month.
Virginia is tied for eighth for the party with 13 consecutive Democratic wins since the GOP swept the Commonwealth's constitutional offices in 2009. Elections for governor, lieutenant governor, and attorney general will be on the ballot in November.
New Jersey Democrats, meanwhile, have won the last six statewide elections since Governor Chris Christie's reelection victory in 2013 – tied for the party's 12th longest active streak. The party's ticket of Governor Phil Murphy and Lieutenant Governor Sheila Oliver is expected to prevail in the November election.
Overall, Democrats in California lead the way for the party, notching 30 straight wins since 2008. Republicans last won a statewide contest in 2006 when Governor Arnold Schwarzenegger was reelected and Steve Poizner picked up the open seat for state insurance commissioner.
Republicans currently own winning streaks in seven states that best the Democratic run of 30 in a row in California: Texas (114), Utah (40), Idaho (39), Oklahoma (38), South Dakota (38), Wyoming (32), and South Carolina (31).
New York owns the longest streak with Democrats not losing any of the 24 statewide elections dating back nine cycles through 2004.
In addition to California, Democrats in Connecticut (23 in a row), Minnesota (22), and Hawaii (12) have active winning streaks since 2008.
Democrats in five other states, including the aforementioned Virginia (13), currently have amassed double-digit consecutive wins: Rhode Island (17), Delaware (16), New Mexico (13), and Illinois (10).
If Minnesota Democrats sweep the state's constitutional offices in 2022, it will mark the first time any party in the Gopher State swept every statewide race during a 14-year stretch.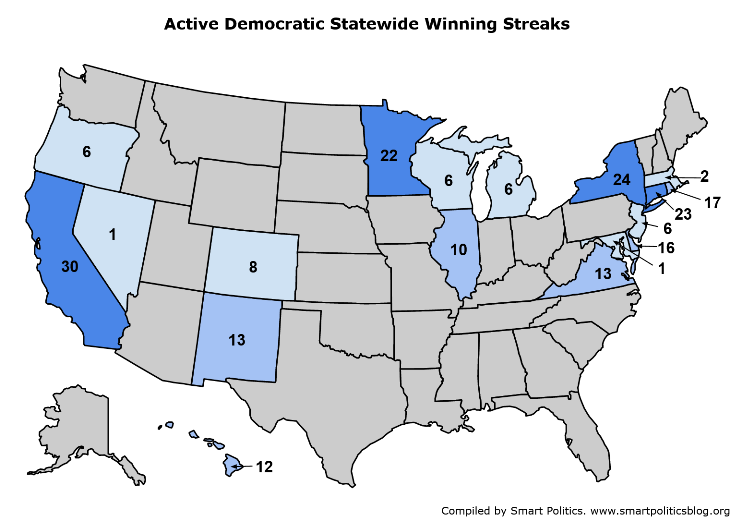 Just eight states saw the electorate split their ticket and elect both Republicans and Democrats in statewide races in the most recent (2020) cycle: Arizona, Georgia, Maine, New Hampshire, North Carolina, Pennsylvania, Washington, and Vermont.
Follow Smart Politics on Twitter.