The Largest Active GOP Statewide Winning Streaks
Republicans in nine states have currently won at least two-dozen statewide elections in a row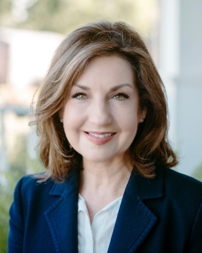 This report continues Smart Politics' ongoing review of the deepening partisan divide in states across the nation.
Over the last year, Smart Politics documented the rise of single-party state congressional delegations, how major parties currently have record U.S. Senate winning streaks in two-dozen states, how two-thirds of states have governors and U.S. Senators from the same political party, how the 117th Congress has the fewest split U.S. Senate delegations in history, how one party controls every elected executive office in all but 14 states, and how major parties have record gubernatorial winning streaks in 18 states.
Last week, two-term Oklahoma Superintendent of Public Instruction Joy Hofmeister (pictured) switched her party affiliation from Republican to Democrat and announced her candidacy for governor in a bid to unseat likely GOP nominee Governor Kevin Stitt.
While Hofmeister might be the strongest viable Democratic candidate for the state's top elected office, Oklahoma is home to one of the largest Republican winning streaks to statewide office in the country.
The GOP has won every statewide election in Oklahoma since 2008 – a string of 38 consecutive wins in races for president, U.S. Senator, governor, lieutenant governor, attorney general, auditor & inspector, treasurer, superintendent of public instruction, labor commissioner, tax commissioner, and corporation commissioner.
It was just 15 years ago when Oklahoma Democrats claimed eight of the nine statewide offices on the ballot during the 2006 cycle – electing Brad Henry for governor, Jari Askins for lieutenant governor, Jeff McMahan for auditor and inspector, Drew Edmondson for attorney general, Scott Meacham for treasurer, Sandy Garrett for superintendent of public instruction, Lloyd Fields for commissioner of labor, and Kim Holland for insurance commissioner. [The party only lost the lone corporation commissioner seat on the ballot that November].
But Democrats haven't won a statewide election ever since, and have only come within single digits of Republican nominees in two of these subsequent 38 losses:
Corporation Commissioner, 2008: Appointed Democratic Commissioner Jim Roth lost by 4.5 points in a special election to Dana Murphy
Insurance Commissioner, 2010: Democratic incumbent Kim Holland lost by 9.0 points to insurance company executive John Doak
The 38-election winning streak by Republicans in Oklahoma is tied for the party's fifth largest active streak in the nation.
Texas Republicans lead the way by a wide margin, having won 114 consecutive statewide elections since 1996 across 10 offices, including each of the last 47 contests for the state Supreme Court. [Note: Most states host non-partisan statewide judicial elections and/or judicial retention elections].
Two-term Supreme Court Justice Raul Gonzalez was the last Democrat to win a statewide race in Texas, when he defeated Libertarian nominee John Hawley by 62.6 points in 1994.
No state is even close to half the total of consecutive wins the GOP has recorded in Texas. Utah is next at 40 straight victories since 1998, Idaho has 39 in a row since 2004, and South Dakota is tied with Oklahoma at 38 in a row since 2010.
The last Democratic win in Utah was notched by Attorney General Jan Graham in 1996 – winning a second term by 6.4 points in a rematch against GOP attorney Scott Burns.
The most recent win by Idaho Democrats was Marilyn Howard's victory in 2002 for a second term as Superintendent of Public Instruction by 6.8 points against Nampa School Board member Tom Luna. The party came close to winning back the seat twice since then, coming up 1.3 points shy in 2014 and 2.9 points short in 2018.
Smart Politics has previously documented the decline of South Dakota Democrats, where the party last won a statewide race in 2008 when U.S. Senator Tim Johnson cruised to a third term.
Republicans in Wyoming (32 in a row since 2008), South Carolina (31 since 2008), Alabama (29 since 2018), Nebraska (24 since 2008), and Arkansas (20 since 2012) have each also recorded notable winning streaks.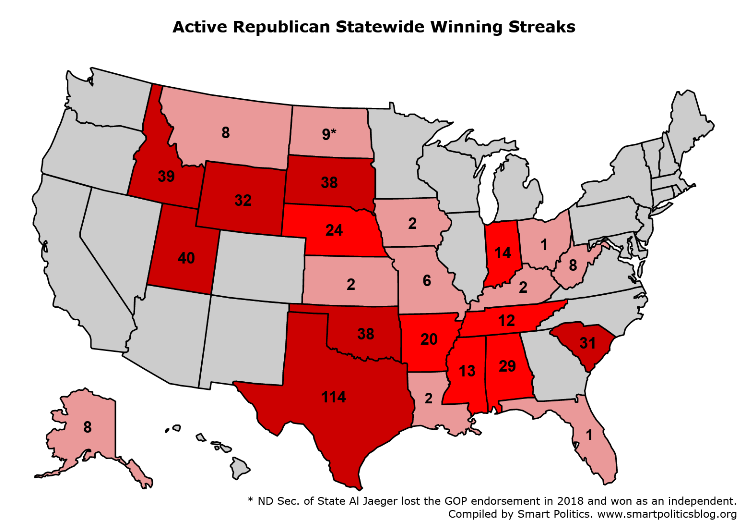 It should be noted that while North Dakota Republicans have technically only won nine elections in a row since 2020, practically that number is actually 30 in a row since 2014.
The last Democrat to win a statewide race was Heidi Heitkamp in her 2012 U.S Senate victory.
The GOP then won every contest in 2014 and 2016. However, in April 2018, seven-term Secretary of State Al Jaeger lost the Republican endorsement to businessman Will Gardner.
Jaeger decided not to run in the June primary, but Gardner withdrew in May after it came to light that he had pled guilty to disorderly conduct in a 'peeping tom' incidence at North Dakota State University more than a decade prior. No other GOP candidate was on the primary ballot. Jaeger then launched an independent campaign and defeated Democratic state Representative Joshua Boschee by 8.1 points with a plurality of the vote.
If Jaeger's 2018 victory is counted as a Republican victory, the North Dakota GOP has won 30 consecutive elections since 2014.
Overall, Republicans have won the most recent statewide election (or elections) in two-dozen states.
Follow Smart Politics on Twitter.