A Century of Gubernatorial Incumbents at the Ballot Box
Governors have successfully run for another term in seven out of 10 attempts over the last 100 years – faring best in the Northeast and worst in the West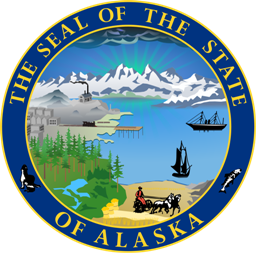 Last week, Smart Politics highlighted the power of incumbency in Vermont, where governors (and U.S. Senators) in that state have recorded the best winning percentage in the nation over the last 100 years.
Looking more broadly across the country over the last century, gubernatorial incumbents have been successful in seven out of 10 campaigns for another term – winning 632 of 903 elections (70.0 percent).
Vermont set the pace with incumbents victorious in 28 of 30 attempts since 1922, or 93.3 percent of the time.
States from all four regions of the country pepper the Top 10 list with Maine (88.9 percent) coming in second just ahead of a trio of states tied for third at 85.7 percent (Indiana, North Carolina, Pennsylvania) where incumbents were not permitted to run for consecutive terms during several years during this period under analysis.
New York (81.8 percent), Utah (81.0 percent), Hawaii (80.0 percent), Tennessee (78.9 percent), and Arkansas (78.1 percent) round out the Top 10.
At the bottom of the list is Alaska – the only state in the nation where incumbents have not won more than half of their bids for a subsequent term coming in at 36.4 percent since statehood (four of 11).
Smart Politics also profiled Alaska earlier this year as having the longest drought in the nation between a candidate winning back-to-back gubernatorial elections. Republican Mike Dunleavy is attempting to become the first Alaskan to achieve this in 2022 since Democrat Tony Knowles in 1994 and 1998.
Wyoming governors have the second lowest winning percentage at 52.6 percent (10 of 19) even though the state has not had a sitting governor lose at the ballot box in seven straight attempts dating back nearly 60 years. However, from 1922 through 1962, Wyoming governors won in only three of 12 tries.
Regionally, governors in the Northeast have enjoyed the most success, claiming victory in 76.7 percent of bids for another term since 1922 (178 out of 232 attempts).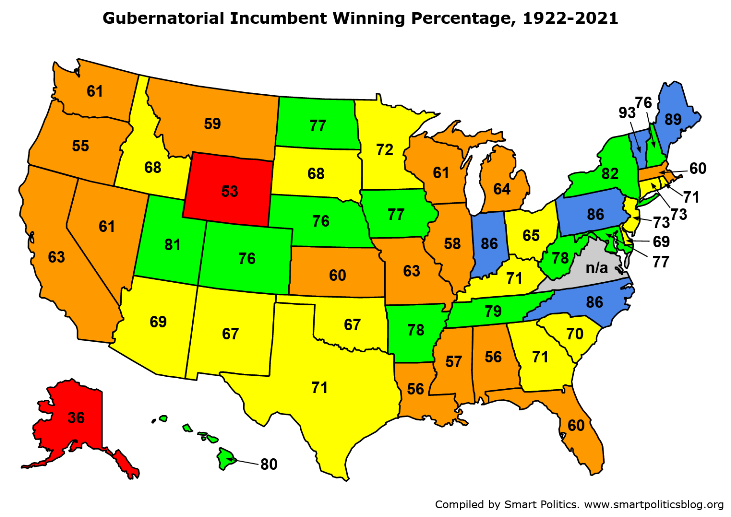 All but two Northeastern states – Delaware (69.2 percent) and Massachusetts (60.0 percent) – come in above the national average of 70.0 percent.
Just four incumbents from the Northeast have fell short in their reelection campaigns since the turn of the 21st Century, with governors winning 32 out of 36 attempts (88.9 percent): New Hampshire Republican Craig Benson in 2004, Maryland Republican Bob Ehrlich in 2006, New Jersey Democrat Jon Corzine in 2009, and Pennsylvania Republican Tom Corbett in 2014.
Over the last 100 years, governors in the South region were reelected 71.3 percent of the time (119 of 167) compared to 68.2 percent in the Midwest (180 of 264) and just 64.6 percent in the West (155 of 240).
Since 2000, governors have recorded victories in reelection bids 79.4 percent of the time in the West (27 of 34 attempts), 75.0 percent in the South (24 of 32), and 71.0 percent in the Midwest (22 of 31).
Wisconsin has had the largest number of incumbents lose reelection at 12, coming it at #36 overall with a 61.3 percent winning percentage (19 of 31).
Follow Smart Politics on Twitter.