Ilhan Omar Records Weakest Primary Win By Minnesota DFL US Rep in Party History
Since the DFL merger in 1944, 304 Republican and DFL Minnesota U.S. Representatives have been renominated for the office – none by a closer margin than Omar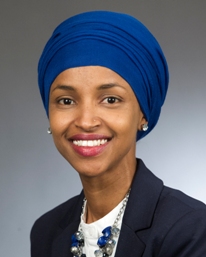 While Minnesota U.S. Representative Ilhan Omar's vulnerability in her primary was not a surprise to all political observers, considering her historic underperformance in the 2020 primary and general election, it did seem to catch her campaign flat-footed against Don Samuel's challenge from the center.
In the end, Omar eked out a 2.15-point victory over Samuels with just over 50 percent of the vote in the five-candidate field.
So, just how unusually close was this race?
Smart Politics reviewed hundreds of primary returns for Minnesota U.S. Representatives since the DFL merger in 1944 and found Omar's narrow win set party records.
For starters, Omar's 2.15-point margin of victory is the closest for a DFL U.S. Representative across the nine decades of the party.
Since, 1944, there have been 159 DFLers who sought renomination with 51 of those drawing at least one primary opponent.
All 51 representatives have been victorious, winning by an average of 64.4 points.
In fact, DFL U.S. Representatives have won renomination by less than 30 points just five times over the last 78 years – and Rep. Omar now owns two of those.
Prior to her record-setting nailbiter on Tuesday, the closest call was recorded by five-term incumbent Gerry Sikorski in 1992 in the state's 6th Congressional District (Anoka, Dakota, and Washington Counties).
Sikorski, however, was in the midst of the U.S. House Banking Scandal that cycle, in which many members from both parties were found to have overdrafts on their accounts – some, including Sikorski – for hundreds of checks.
As a result, Sikorski drew three challengers in the DFL primary and defeated former state Senator Tad Jude by just 2.89 points. [Sikorski would subsequently lose the general election to Rod Grams].
Besides Omar and Sikorski, no other DFLer has won renomination by less than double digits. Omar and just two others also failed to win by 30+ points:
1958 (9th CD): Two-term Rep. Coya Knudson defeated Marvin Evenson by 12.4 points [whilst her own estranged husband was sabotaging her campaign]
1980 (8th CD): Three-term Rep. Jim Oberstar beat Tom Dougherty by 11.3 points
2020 (5th CD): Freshman Rep. Ilhan Omar beat political novice Antone Melton-Meaux by 19.7 points
Expanding the lens to include Republican U.S. Representatives, Omar's win still goes down as the narrowest across both parties during the post-merger era.
Since 1944, there have been 146 GOP U.S. House members who sought renomination, of which 45 drew at least a single challenger on the primary ballot.
Forty-four of these 45 were victorious, winning by an average of 64.9 points, with just one doing so by only single-digits. In 1948, four-term 2nd CD Rep. Joseph O'Hara edged long-serving state Senator Val Imm by 2.67 points.
Since the 1944 DFL merger, only one Minnesota U.S. House member has lost their party's nomination – 12-term Republican H. Carl Andersen in 1962 (to state Representative Robert Odegard). It should be noted Anderson also lost nearly half of his constituency following redistricting that cycle.
The 50.4 percent received by Omar in 2022 is also the second lowest tally among the 304 incumbents (and 95 facing challengers) who were renominated since 1944, just eclipsing the aforementioned Sikorski's 49.3 in 1992.
The last time a U.S. House member from any party in Minnesota won by less than Omar's 2.15 points was 100 years ago in the 1922 3rd CD primary.
In that cycle, 10-term Republican Charles Davis beat Washington County Attorney Reuben Thoreen by 2.11 points in a head-to-head matchup.
Follow Smart Politics on Twitter.