Ilhan Omar Drawing a Historic Number of DFL Challengers
In just two cycles, Omar has already faced more primary challengers than all but one U.S. Representative in DFL history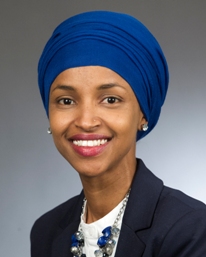 Early primary voting is already underway in Minnesota and residents in the state's 5th Congressional District are once again being offered several choices on the Democratic side of the ballot.
For the second consecutive cycle, DFL U.S. Representative Ilhan Omar has drawn four challengers.
In 2020, Omar won just 58.9 percent in the primary – becoming just the seventh Minnesota U.S. Representative out of nearly 300 reelection campaigns since the DFL merger in 1944 to fail to win at least 60 percent of the primary vote.
Omar's main opponent in that primary was political newcomer Antone Melton-Meaux, who lost by 19.7 points – the closest renomination win by an incumbent from either major party in the state since DFLer Gerry Sikorksi's 2.9-point victory over former state Senator Tad Jude in the 1992 6th CD primary.
Omar faces four primary opponents again in 2022, except this time one of them is an established politician – Don Samuels, who served 12 years on the Minneapolis City Council (2003-2015) representing the 5th Ward.
Samuels is fairly well-funded and running plenty of television advertisements. He launched his campaign in part because he says Omar "has the posture of an activist and speaking truth to power even though she is power, and not really collaborating with her peers…Some people go to Washington to make a point. I'm going to Washington to make a difference."
That Rep. Omar has her detractors from the Republican side of the aisle is, of course, an understatement.
But she is also drawing a historic number of challengers from her own party.
In 2020, she and 4th CD DFLer Betty McCollum faced four primary challengers each – more than any Minnesota U.S. Representative in more than 85 years.
By equaling that number this cycle, Omar has now drawn eight primary challengers which, in just two cycles, is already tied for the second most in DFL party history.
McCollum has faced a total of 12 challengers – across 11 cycles as an incumbent – or an average of 1.09 per cycle.
Omar and former 8th CD DFLer Jim Oberstar tallied eight each – Omar in just two cycles (4.00 per cycle) and Oberstar in 18 cycles (0.44).
Of the 26 DFLers elected to the U.S. House since 1944, Omar's primary challenger rate of 4.00 candidates per cycle is twice that of the next highest incumbent DFLer.
Freshman William Gallagher – at the age of 71 – faced two challengers in his one renominatinon bid in 1946. Gallagher won the primary but passed away before the general election.
Only two other DFLers have averaged more than one challenger per cycle during their tenure in the legislative body: Omar's predecessor Keith Ellison (seven challengers in five cycles, 1.40 per cycle) and the aforementioned McCollum.
To further put the scope of Rep. Omar's primary foes into perspective, consider these other long-serving DFLers:
Collin Peterson (1991-2021, 7th CD) faced four challengers in 15 cycles as an incumbent (0.27 per cycle)
Bruce Vento (1977-2000, 4th CD) faced three in 11 cycles (0.27)
Marty Sabo (1979-2007, 5th CD) faced six in 13 cycles (0.46)
John Blatnik (1947-1975, 8th CD) faced six in 13 cycles (0.46)
Overall, DFL U.S. Representatives have faced 81 primary opponents in 159 reelection attempts since 1944 (0.51 per cycle).
While Omar represents a safe DFL district, her potential vulnerability in a primary is reflected by the fact that she ran a substantial 15.7 points behind Joe Biden in her district in 2020 – more than twice the deficit of any other Gopher State U.S. Representative since at least the 2000 cycle.
That said, Minnesota U.S. Representatives have won 211 consecutive primaries since 1964.
Follow Smart Politics on Twitter.