Will Libertarians Continue to Make Inroads in 2024?
Nearly all metrics show support for Libertarian gubernatorial candidates is currently at an all-time high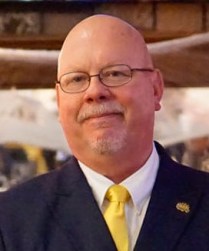 Last week Indiana Libertarian Donald Rainwater (pictured) announced he would run for the state's open gubernatorial seat in 2024.
The software engineer and U.S. Navy veteran impressed third party observers four years ago when he won 11.4 percent of the gubernatorial vote in the state – the second best showing in an election for governor in party history and the best in 38 years. [Alaska's Dick Randolph holds the Libertarian record for the office with 14.9 percent in 1982].
While the Libertarian electoral footprint might not be as deep or wide as the potential impact nominees often show in matchup polling prior to Election Day, support for the party has steadily grown in many respects and currently rests at a high water mark since its formation 50 years ago.
For example, the two best Libertarian showings in presidential elections have come during the last two cycles with Gary Johnson in 2016 (3.3 percent) and Jo Jorgensen in 2020 (1.2 percent).
In gubernatorial elections, the number of Libertarians on the ballot last November reached an all-time high of 26, with the two previous midterm elections in 2014 (22 candidates) and 2018 (23) ranking third and fourth highest behind the 2002 cycle (25).
Additionally, Libertarian nominees in 11 states set party records in gubernatorial contests during the 2020 (Indiana, Montana, Utah, West Virginia) and 2022 (Alabama, Iowa, Maryland, Nebraska, New Mexico, Rhode Island, Wyoming) cycles.
There have also been 95 Libertarian candidates for governor over the last decade (2013-2022), which is another record for the party – eclipsing the 88 candidates who appeared on the ballot from 2009 through 2018 and 2010 through 2019.
The percentage of the vote won by Libertarians in races for governor is also at its peak.
In the 1970s, nominees for governor won an average of 0.5 percent of the vote, rising to 1.2 percent during the 1980s and 1.8 percent in the 1990s.
Following a drop to 1.4 percent in the 2000s, support for Libertarian candidates for governor increased to 2.0 percent in the 2010s and has clocked in at 2.1 percent thus far in the 2020s.
To further situate the 11.4 percent won by Rainwater in Indiana in 2020 in historical perspective, he became one of just three Libertarians to receive double-digit support in a gubernatorial contest in the history of the party (along with Randolph's 14.9 percent in 1982 and Ed Thompson's 10.5 percent in Wisconsin in 2002).
Out of the more than 300 Libertarians to appear on a gubernatorial general election ballot under the party name, just two other nominees ever reached the five percent mark: Virginia's Robert Sarvis in 2013 (6.5 percent) and Arizona's Sam Steiger in 1982 (5.1 percent). [Steiger was also a former five-term Republican U.S. Representative and former state legislator].
Overall, Rainwater's 11.4 percent support was more than six times greater than that of the average Libertarian running for governor over the last 50 years (1.7 percent).
And so will Rainwater – the party's presumptive nominee – build on his strong base from 2020 next year and break Randolph's party record? Or will the state's open seat race yield a more competitive contest between the eventual Republican and Democratic nominees to make voters more gun shy in backing a third party nominee?
Follow Smart Politics on Twitter.