Libertarian Gubernatorial Nominees Set Record Highs in Four States
The nation's third largest party continues to make bigger footprints in multiple statewide races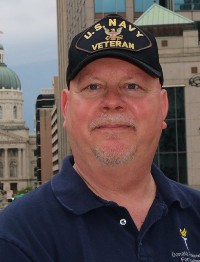 Smart Politics recently profiled the record-setting performances Libertarians and other third party candidates had this cycle across nine states in elections for the U.S. Senate.
This report's focus is on gubernatorial elections – for which Libertarians set new party records in four of the nine states in which they fielded a nominee earlier this month.
Nearly setting the all-time bar was U.S Navy veteran and 2016 U.S. Senate nominee Donald Rainwater in Indiana (pictured).
Rainwater clocked in with 11.44 percent – nearly tripling the previous best for the party in the state (Robert Boneham's 3.95 percent in 2012).
This was the eighth time Libertarians have fielded a nominee for governor in Indiana dating back to the first nominee there in 1984.
Rainwater is just the third Libertarian candidate to reach double-digits in a gubernatorial election in party history and ranks second all-time to Alaska's Dick Randolph who won 14.91 percent in 1982.
Wisconsin's Ed Thompson is third with the 10.45 percent he won in 2002. No other nominee has reached seven percent.
In Montana, Lyman Bishop became the 18th Libertarian candidate for governor to win at least four percent of the vote, tallying 4.01 percent in an open-seat race won by congressman Greg Gianforte.
Montana has also fielded nominees in eight gubernatorial elections since 1984 with the previous high water mark held by Ronald Vandevender in 2012 at 3.76 percent.
Bishop currently ranks tied for the 16th best all-time Libertarian performance in a gubernatorial election out of 275 candidacies since 1973.
In Utah, surgeon Daniel Cottam received 3.56 percent besting Brian Kamerath's 3.10 percent from four years ago.
Libertarians have fielded a nominee for governor in five consecutive elections and six overall since 1988.
Cottam ranks 27th all-time for the party in races for governor.
Finally, in West Virginia, attorney Erika Kolenich garnered a party record 2.93 percent – slightly better than Wallace Johnson's 2.57 percent in 1996 and good for 38th best for the party since 1973.
Libertarians have fielded nominees for the office six times in the Mountain State including each of the last three cycles.
All told, Libertarians have appeared on the gubernatorial ballot in every state except for Maine and Mississippi.
Follow Smart Politics on Twitter.