Democrats and Republicans Have Record US Senate Winning Streaks in Two-Dozen States
Fifteen state party records will be on the line during the 2022 cycle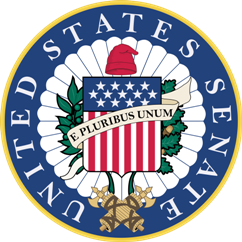 The 2020 election cycle saw control of five of the 35 U.S. Senate seats on the ballot flip but also saw parties in 17 states extend their record winning ways.
Smart Politics has written multiple reports on the myriad ways states are seeing heightened partisan voting trends such as the historic partisan winning streaks taking place in three-dozen states in presidential elections, the record low water mark of split U.S. Senate delegations in the 117th Congress, and the large percentage of states which have its governor and U.S. Senators from the same party.
Democrats and Republicans are also in the midst of record winning streaks in U.S. Senate elections in two-dozen states.
The GOP is currently enjoying record success in 14 states: Kansas (32 victories in a row since 1936), Wyoming (18, 1972), Utah (16, 1974), Idaho (15, 1978), Mississippi (15, 1984), Texas (12, 1990), Oklahoma (12, 1992), Tennessee (11, 1994), Kentucky (nine, 1996), South Carolina (eight, 2002), Arkansas, Louisiana, and North Carolina (four each, 2010), and Florida (two, 2016).
Additionally, with Steve Daines' victory last November, Montana Republicans also tied their very modest winning streak in that state – of one. Montana is one of just two states in which the GOP has never won back-to-back U.S. Senate elections (along with Hawaii).
However, the Republican Party record of six straight U.S. Senate wins in Georgia came to an end with the two high profile run-off losses in early January.
Democrats, meanwhile, are in the midst of all-time record runs in nine states: Hawaii (18, since 1974), New Jersey (17, 1976), Maryland (13, 1982), California (11, 1992), New York (10, 1994), Delaware (10, 1996), Michigan (nine, 1996), Oregon (six, 2004), and New Hampshire (three, 2014).
The records in Oregon and New Hampshire were set in 2020 with the former state breaking a tie of five in a row (previously achieved from 1954-1962) and the latter breaking a tie of two in a row (1972-1975).
Republicans records will be on the line in 10 of these states next year (Arkansas, Florida, Idaho, Kansas, Kentucky, Louisiana, North Carolina, Oklahoma, South Carolina, Utah) as well as in six states on the Democratic side (California, Hawaii, Maryland, New Hampshire, New York, Oregon).
The 32-election GOP winning streak in Kansas is the longest active streak in the nation – and the longest ever by the Republican Party. Next year the Kansas GOP could tie the all-time major party record of 33 consecutive wins in the direct election era set by Louisiana Democrats from 1914-2002.
Wyoming's 18 wins in a row for the Republican Party is the third largest run in GOP history behind Kansas and Vermont (25, 1914-1972).
The 18 consecutive victories in Hawaii for the Democrats, meanwhile, rank only 12th best mark in party history – trailing 11 southern states.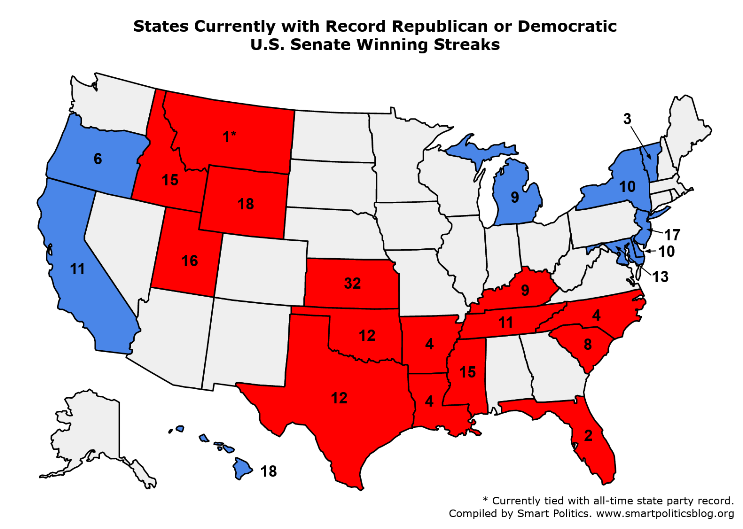 Democrats in Pennsylvania are looking to tie their record of just two straight wins in that state's open seat race next year – a feat achieved just once before in 1940/1944.
Follow Smart Politics on Twitter.